Page 359 of 559
Biological Sciences Division
Staff Awards & Honors
January 2010
Dani López-Ferrer Wins Tech Transfer Award
High-pressure enzymatic digestion system licensed to Pressure BioSciences, Inc.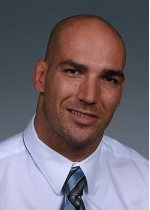 Dani López-Ferrer
Congratulations to Dr. Daniel López-Ferrer at Pacific Northwest National Laboratory, winner of a 2010 Federal Laboratory Consortium Award for Excellence in Technology Transfer. The award is for developing a high-pressure enzymatic digestion system and assisting in its transfer and commercialization through a license to a provider of instruments used in biological research.
The system is used to digest microgram-sized protein samples into peptides—the building blocks of protein—for analysis. It improves on traditional digestion methods by using high pressure, speeding up the digestion process from several hours to a few minutes. This allows scientists to do many more protein studies than before and reduces processing and analysis costs.
Pressure BioSciences, Inc. (PBI), collaborated with López-Ferrer and colleagues at PNNL to develop the technology for market applications. As a result of this joint work, PBI introduced three products directly related to the technology transfer shortly after the execution of the license agreement. PNNL continues to assist PBI in developing this technology, and both organizations also continue to collaborate in marketplace awareness.
Applications for the high-pressure enzymatic digestion system include discovering and validating protein biomarkers associated with diseases such as diabetes, cancer, and obesity; identifying pathogens in food safety analysis; characterizing proteins key to biological processes related to climate change; and forensic applications in bioterrorism.
López-Ferrer and PNNL will be recognized at an award ceremony in April in Albuquerque, New Mexico. He was assisted in his efforts to transfer and commercialize the technology by Bruce Harrer, PNNL Commercialization Manager, and staff at PBI, including CEO Richard Schumacher, CTO Alexander Lazerev and VP of Marketing, Nate Lawrence.
See the PNNL News Release
Related Highlight: Proteins Under Pressure
---
Page 359 of 559