Page 761 of 1002
Physcial Sciences Division
Staff Awards & Honors
December 2009
Greg Schenter Appointed American Physical Society Fellow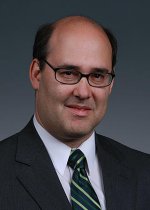 Greg Schenter
Congratulations to Dr. Greg Schenter of Pacific Northwest National Laboratory on being named a Fellow of the American Physical Society, the world's second largest organization of physicists. Schenter earned this honor for his contributions in chemical physics.
In his research, Schenter has uncovered mysteries surrounding the physics of molecules and atoms. "I started my career as a physicist and became a chemist," said Schenter. "These days disciplines are becoming melded."
Examples of his research include developing accurate methods for calculating how small, light molecules and atoms would move and react in solids and in solution. These methods are vital to those building better batteries and alternative fuels. Another example is his theory of how droplets form or nucleate, improving previous theories and changing that way scientists see everything from cloud formation to fuel cells.
Schenter's work has appeared in top journals. In fact, nearly half of his publications land in top 5 journals.
---
Page 761 of 1002