Page 762 of 1002
Physcial Sciences Division
Staff Awards & Honors
December 2009
Bill Weber Spoke to National Academy of Sciences Committee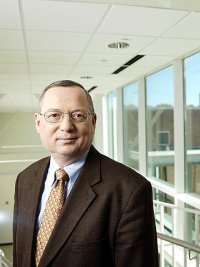 Bill Weber
Dr. William Weber of Pacific Northwest National Laboratory spoke to the National Academy of Sciences Committee on Waste Forms Technology and Performance. With hundreds of nuclear reactors operating worldwide, disposing of nuclear waste and used fuel is a growing issue. Weber spoke on the application of state-of-the-art computational methods to the design and performance of radionuclide-containing waste forms. Of specific interest was how the waste form behaved both during the initial cooling phase and over the thousands of years the waste would be stored.
Weber was asked to speak because of his internationally recognized expertise on waste forms, radiation effects, and the application of advanced computational methods to understanding material behavior. His research focuses on the radiation stability of nuclear waste materials, computer simulations, and the performance of materials in high-radiation environments. He currently leads a multidisciplinary, multi-institutional team studying defects and radiation effects in high-tech ceramics.
A Fellow of the Materials Research Society and the American Association for the Advancement of Science, Weber has written extensively. He has authored or co-authored 5 book chapters and more than 480 publications. Many of these publications have been cited extensively. He is currently a principal editor and member of the editorial board for the Journal of Materials Research.
---
Page 762 of 1002