Page 628 of 740
Atmospheric Sciences & Global Change
Research Highlights
November 2009
China Shows Promise in Carbon Capture and Storage
Country has enough geologic storage capacity to meet demand for at least a century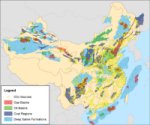 China's 2,300 billion metric tons of potential deep geologic carbon dioxide storage capacity are widely distributed throughout the country. An additional 780 billion metric tons of offshore storage capacity may also be available to the industrialized coastal areas.
Enlarge Image
Results: China's rapid industrial growth has come at a price—the country now ranks as the world's top emitter of carbon dioxide, the chief culprit in global warming. But new research points to a cost-effective, promising option to dramatically reduce industrial greenhouse gas emissions while meeting China's growing energy demands. Pacific Northwest National Laboratory scientists, working with their Chinese partners, showed that China has adequate deep geologic storage capacity for carbon dioxide storage to meet likely demand for more than 100 years. Furthermore, these natural storage reservoirs already are located near many of China's stationary carbon dioxide-emission sources.
Why it matters: Carbon dioxide capture and storage (CCS) technologies may represent a cost-effective, viable option to help China continue to meet its growing energy demands while also delivering deep and sustained reductions in industrial greenhouse gas emissions. This research defines the pivotal role that CCS technologies can play in cost effectively reducing China's greenhouse gas emissions over the course of this century.
Until now, the discussions around China's options were limited. "A lot of the policy dialogue and technical discussions have this really sharp dichotomy: Either China continues to use its vast supplies of coal and bad things happen to the environment, or they agree to forgo the use of this valuable coal and bad things happen to their economy," stated James Dooley, PNNL scientist and co-author of the report. Dooley leads CCS research for the Joint Global Change Research Institute (a collaboration of PNNL and the University of Maryland) and the Global Energy Technology Strategy Project. But the new study shows there is a much-needed third option for addressing these twin challenges—large-scale deployment of carbon dioxide (CO2) capture and storage technologies.
The study is the first to map enormous and widely distributed deep geologic CO2 storage formations in China that could allow for long-term, cost-effective, large-scale deployment of CCS. The mapping of over 2,300 billion metric tons of theoretical geologic CO2 storage capacity in 90 onshore storage formations represents a vast and valuable domestic natural resource for China. The team has also identified an additional 780 billion metric tons of CO2 capacity in 16 offshore geologic formations along mainland China's heavily developed coastal regions, which could prove immensely valuable in this part of China where there is strong potential demand for storage.
The Carbon Sequestration Leadership Forum awarded the team its recognition award for this project in October 2009. The study had wide recognition in international media sources including USA Today, China Economic Review, and environmental and climate blogs in The Wall Street Journal, The New York Times, and Nature.
Methods: An international team of researchers led by Robert T. Dahowski of Pacific Northwest National Laboratory and Professor Xiaochun Li of the Chinese Academy of Sciences' Institute of Rock and Soil Mechanics was formed in 2004 to survey China's candidate deep geological carbon dioxide storage reserves on and off shore; map locations of the largest stationary CO2 emissions sources; assess CO2 pipeline infrastructure needs; and evaluate the economics of deploying CO2 transport and storage technologies to China's large and well-distributed deep geologic CO2 storage formations.
A central aspect of the research was to model the economic competition between the large number of China's stationary emission sources of CO2 and the country's large theoretical CO2 storage capacity in deep geologic reservoirs. Researchers paired the 1623 large CO2 sources with the candidate CO2 storage reservoirs within 150 miles (241 km). For each resulting source-reservoir pair, the costs of CO2 transport and various components of CO2 storage were estimated, based on the combined characteristics of the individual source and selected reservoir. The primary costs evaluated in the analysis included transport of the CO2 from the source to the reservoir via pipeline; storage-site characterization, injection well and well-field infrastructure; oil and coalbed methane recovery and CO2 recycling infrastructure; and measurement, monitoring, and verification requirements for the injected CO2. CO2 capture and related costs were not included, in order to focus on the net cost of CO2 transport and storage.
What's Next: This study points the way toward future research opportunities in better understanding how CCS technologies will deploy across China's complex industrial and power sectors. The study also lays the foundation for applying this approach to other key regions of the world that have large fossil fuel reserves and potentially large CO2 storage reservoirs.
Acknowledgments: The Pacific Northwest National Laboratory is transforming the nation's ability to predict climate change and its impacts. This research was supported and funded by the U.S. Department of Energy; the Ministry of Science and Technology of the People's Republic of China; the multilateral Carbon Sequestration Leadership Forum; the many public and private sector sponsors of the PNNL-led Global Energy Technology Strategy Program; and Leonardo Technologies, Inc.
Research Team: R.T. Dahowski, C.L. Davidson, and J.J. Dooley, Pacific Northwest National Laboratory; X. Li, and N. Wei, Institute of Rock and Soil Mechanics, Chinese Academy of Sciences; and R.H. Gentile, Leonard Technologies, Inc.
Reference: R.T. Dahowski, X. Li, C.L. Davidson, N. Wei, J.J. Dooley, R.H. Gentile. February 2009. A preliminary cost curve assessment of carbon dioxide capture and storage potential in China, Energy Procedia, 1(1):2849-2856
See the PNNL News Release.
---
Page 628 of 740