Page 784 of 1002
Physcial Sciences Division
Staff Awards & Honors
July 2009
Jean Futrell Elected Fellow of American Chemical Society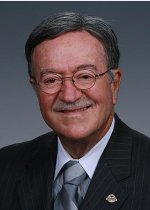 Jean Futrell
Congratulations to Dr. Jean Futrell of Pacific Northwest National Laboratory on being selected for the inaugural class of American Chemical Society Fellows. The American Chemical Society, with more than 150,000 members, is one of the world's largest scientific organizations. This prominent honor, given to only 0.1% of the society's members, reflects Futrell's scientific achievements and his contributions to the research community.
His research focuses on the theory and practice of mass spectroscopy. His work has answered fundamental questions about mass spectrometry, including the behavior of ions. He has developed or modified instruments for specialized research, creating high-pressure and chemical-ionization mass spectrometers. His invention of tandem mass spectrometry is deployed in nearly every commercial mass spectrometer.
In the scientific community, Futrell is a quiet, diplomatic, and highly effective leader. He has served as chair and past chair of the American Society of Mass Spectrometry; he is currently on the society's executive committee. He has also served as president and past president of the Council for Chemical Research, which advances scientific research to benefit society. The first director of the Department of Energy's EMSL, Futrell is a prolific writer with more than 400 refereed articles and invited reviews to his name.
Throughout his career, Futrell has been recognized by his peers. As a mass spectrometry expert, he was named the German Mass Spectrometry Society's Wolfgang Paul Distinguished Lecturer-the fourth American to receive such an honor. He won the FH Field and JL Franklin Award, the ACS's top honor for fundamental science in mass spectrometry. Further, he is a Fellow in three societies: the American Physical Society, the American Society for the Advancement of Science, and the World Innovation Foundation.
Futrell and the other ACS Fellows will be honored at a special ceremony during the ACS National Meeting in Washington, D.C., on Monday, August 17, 2009.
---
Page 784 of 1002