Page 380 of 559
Biological Sciences
Research Highlights
June 2009
Matching Measurements Provide Most Complete Analysis of Salmonella to Date
Sample-matched transcriptomics and proteomics offer insight into organism's virulence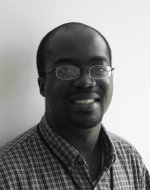 Charles Ansong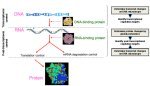 Sample matched proteomics-transcriptomics measurement capabilities now make it possible to quantitatively characterize global post-transcriptional control mechanisms. RNA-binding proteins mediate post-transcriptional control. Quantitative global proteomics measurements determine the protein-dependent changes in protein expression and sample-matched transcriptomics analysis reveals if the change in protein expression is mediated post-transcriptionally.
Enlarge Image.
Results: One of the most complete analyses of global post-transcriptional regulatory mechanisms in any organism indicates that post-transcriptional regulation plays an unexpectedly prominent role in the bacteria Salmonella's ability to infect its host. Post-transcriptional regulation is the control of protein synthesis by genes after RNA synthesis has begun.
The analyses, performed by scientists from Pacific Northwest National Laboratory, Oregon Health Sciences University and The Sidney Kimmel Cancer Center were described in the online journal PLoS One in March.
The team investigated the proteome of Salmonella Typhimurium mutant strains lacking specific RNA-binding proteins that mediate the translation of RNA into protein (post-transcriptional control) and the parent strain. Specifically, the team investigated the Salmonella RNA-binding virulence proteins Hfq and SmpB.
The team then compared the proteomics data to sample-matched transcriptomics data to characterize the global control of gene expression at the post-transcriptional level. "Sample-matched" means that RNA for transcriptomics analysis and protein for proteomics analysis were prepared from the same sample.
The comparison revealed that a relatively high percentage of all the annotated Salmonella genes (≥20%) are regulated post-transcriptionally. The extent of post-transcriptional regulation observed is much greater than previously thought with profound effects in all stages of Salmonella's life cycle. These include known and novel virulence factors.
Why it matters: Hfq and SmpB are proteins essential for virulence in a wide range of pathogenic bacteria including Salmonella, a leading cause of foodborne illness. Salmonella Typhimurium was the bacterium of interest in the recall of peanut butter crackers in 2008 and 2009. Understanding how Hfq and SmpB impact Salmonella's virulence is important for protecting human health and agriculture.
While the role that DNA-binding proteins play in regulating gene expression at the transcriptional level is well studied, how RNA-binding proteins control gene expression at the post-transcriptional level is less clear. The team's work provides one of the first quantitative global analyses of the role RNA-binding proteins play in regulating gene expression and makes a significant contribution to knowledge of this regulatory process.
Methods: The researchers used capillary liquid chromatography-mass spectrometry analyses to analyze the proteomes of Salmonella mutant strains lacking specific RNA-binding proteins that mediate the translation of RNA into protein (post-transcriptional control) and the parent strain grown under four different conditions.
They then applied the accurate mass and time tag strategy developed at PNNL to quantitate proteins in the samples. They employed whole genome microarray analysis to perform sample-matched transcriptome analyses. Bioinformatics approaches were then used to compare the proteomics data to sample-matched transcriptomics data to identify targets of post-transcriptional control and provide quantitative information on changes in the expression pattern of targets at the level of translation.
What's Next: The genomes of most living organisms including all animals, plants and bacteria encode a large number of RNA-binding proteins with increasing evidence pointing to their extensive involvement in post-transcriptional regulatory events. The work described here has established the framework for the future systematic characterization of the global program and molecular mechanisms of post-transcriptional regulation of gene expression in any genetically tractable organism.
Acknowledgments: This research was supported by the National Institute of Allergy and Infectious Diseases, and the National Center for Research Resources. Much of the research was performed in the U.S. Department of Energy's Environmental Molecular Sciences Laboratory, a national scientific user facility located at PNNL. The research team includes Charles Ansong, Heather Mottaz-Brewer, Brianne Petritis, Navdeep Jaitly, Joshua Adkins and Richard Smith, all PNNL; Hyunjin Yoon and Fred Heffron, OHSU; and Steffen Porwollik and Michael McClelland, The Sydney Kimmel Cancer Center.
Reference: Ansong C, H Yoon, S Porwollik, H Mottaz-Brewer, BO Petritis, N Jaitly, JN Adkins, M McClelland, F Heffron, and RD Smith. 2009. "Global Systems-Level Analysis of Hfq and SmpB Deletion Mutants in Salmonella: Implications for Virulence and Global Protein Translation." PLoS ONE 4(3):e4809.
---
Page 380 of 559