Page 640 of 740
Atmospheric Sciences & Global Change
Research Highlights
June 2009
Climate Study Takes Close-up Look at Washington State
PNNL experts help supply science basis for action strategies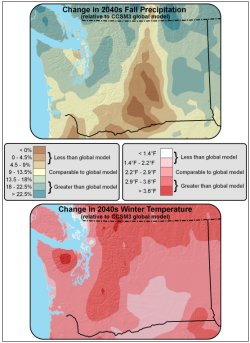 These figures show a regional model of fall precipitation and winter temperature changes predicted for Washington State in the 2040s. In contrast, a global model of the same area over- and under-predicted many of these changes. The comparison shows the specificity and thus, the value, of the more detailed regional model.
Enlarge Image.
Result: A report to which Pacific Northwest National Laboratory researchers made major contributions is providing the scientific foundation for climate change preparation and planning in Washington State. Commissioned by the State Legislature, the Washington Climate Change Impacts Assessment is the most detailed examination ever on how climate change could affect the state.
PNNL climate physicist Dr. Ruby Leung and atmospheric scientist Dr. Yun Qian developed one of the two regional climate change scenarios used in the assessment, which was released in February 2009. Economists Dr. Michael Scott and Michelle Niemeyer prepared an economic assessment of Yakima Basin water supplies.
An international reputation for expertise in regional climate modeling and analysis led to the Laboratory's participation in the project directed by the University of Washington's Climate Impacts Group. The study projects that, by 2020 and into the 2080s, Washington will experience higher temperatures, changes in precipitation patterns, and lower summer water supplies. The report also details the potential economic impacts of these changes on families, businesses, and communities.
Why it matters: Understanding the likely direction and magnitude of future climate changes and impacts is essential for managing the risks— and exploiting the opportunities—of climate change. More than 800 policy makers, resource managers, and decision makers are using the findings as they develop those strategies.
"Much of the strength of Climate Impacts Group comes from its varied membership, drawing from leading institutions around the region such as PNNL," said Spencer Reeder, lead climate change policy strategist for the Department of Ecology. "This type of collaboration will be critical as we face up to and develop solutions and strategies in addressing climate change in our state," he added.
Method: The assessment started with 20 different climate models from research groups around the world. Two global scenarios, one of low greenhouse-gas emissions and the other of medium emissions, were created for each model. Translating global climate change projections into impacts on Washington State required making the climate data more regionally specific.
PNNL researchers built highly detailed regional models and tailored the scenarios to reveal climate changes and consequences for the state. Researchers created six "average climate change" scenarios for the Pacific Northwest and then downscaled the scenarios to create higher-resolution climate projections for particular geographic areas. These actions produced models that account for the influence of smaller features than can be resolved in a global climate model and yielded composite climate scenarios suitable for analysis of specific local climate impacts.
Finally, the team quantified impacts at scales useful for decision-making in eight sectors of the state's economy: hydrology and water resources, energy, agriculture, salmon, forests, coasts, infrastructure, and human health. The assessment also addresses the need for adaptive planning and adaptation options within each sector.
The Washington assessment is the first to combine such a diverse and detailed set of climate models, fine spatial resolution, and hydrologic modeling into an integrated climate impacts assessment. Few other states have as much information on their changing climates.
What's next? An important goal of climate research is to reduce and characterize uncertainty in the climate change projections so that they can be more useful for assessing climate change impacts and developing adaptation and mitigation strategies. PNNL researchers play a key role in reducing uncertainty through improved process understanding and modeling of climate processes such as clouds and aerosols. Leung and Qian also participate in the North American Climate Change Assessment Program to use multiple global and regional climate models to better quantify uncertainties in projecting climate change. Scott continues to work on climate impacts and adaptation in Northwest irrigated agriculture and on forecasting the impacts of climate change, demographic change, and technology adoption on the western U.S. power grid.
Acknowledgments: The 2007 Washington State Legislature funded the University of Washington Climate Impacts Group to conduct the study. Co-principal investigators were Dr. Edward Miles, UW professor of marine affairs and head of the Climate Impacts Group, and Dr. Dennis Lettenmaier, UW professor of civil and environmental engineering. PNNL and Washington State University were principal partners on the study.
Research Team: Ruby Leung, Yun Qian, Michael Scott, and Michelle Niemeyer represented PNNL on the team, which included more than 50 experts from the United States and Canada.
Reference: Littell, J.S., M. McGuire Elsner, L.C. Whitely Binder, and A.K. Snover (eds). 2009. The Washington Climate Change Impacts Assessment:Evaluating Washington's Future in a Changing Climate - Executive Summary, Climate Impacts Group, University of Washington, Seattle, Washington.
---
Page 640 of 740