Page 387 of 559
Biological Sciences
Research Highlights
May 2009
New Insights Gained About High-Risk Platelets from Diabetic Donors
Study identifies 122 proteins whose abundances differs in diabetic, non-diabetic platelets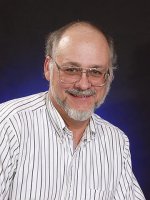 David Springer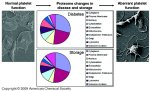 A mass spectrometry-based proteomics study was performed on human plasma platelets collected from healthy (at left) and type-2 diabetics (at right) stored for transfusion. A proteomic approach by scientists at Pacific Northwest National Laboratory identified changes in 122 proteins in type-2 diabetic platelets relative to the nondiabetic controls and 117 proteins whose abundances changed during a 5-day storage period. These are the first studies to characterize the proteome of platelets from diabetics before and after storage for transfusion. The identified differences allow researchers to formulate new hypotheses and experimentation to improve clinical outcomes by targeting "high risk platelets" that render platelet transfusion less effective or unsafe.
Enlarged View
The following is adapted from a highlight that appeared on the American Chemical Society Office of Public Affairs' Weekly PressPac
Results: Amid emerging concerns that blood platelets donated for transfusion by individuals with Type 2 diabetes may be unsafe, scientists are reporting the first detailed identification and quantification of proteins in the platelets from diabetic donors. The study could lead to screening tests to detect and monitor these "high risk platelet preparations," say researchers from Pacific Northwest National Laboratory, Washington State University-Tri-Cities, and the University of Rochester. Their study appeared in the May issue of the Journal of Proteome Research.
About 18 million people in the United States have type 2 diabetes, and the disease is spreading with the epidemic of obesity.
Why it matters: Thousands of patients receive potentially lifesaving transfusions of platelets each year to treat bleeding from trauma and for a wide range of medical conditions. Scientists have known that activated platelets in the blood of diabetics may predispose these individuals to heart disease. This led to the concern that platelets from these individuals stored for transfusion may be less effective and even unsafe. However, scientists know little about how diabetic platelets differ from those of healthy people.
In this study, Dr. David Springer, a biochemist at PNNL, and colleagues identified 122 proteins whose abundances differ in the platelets of individuals with diabetes compared to the platelets of non-diabetics. They also found that freshly collected platelets from diabetics show almost as many changes (more than 100) in protein abundance as healthy donor platelets stored for up to 5 days. These findings could lead to new tests for detecting and monitoring abnormal platelets to improve the outcome of blood transfusions from both diabetic and healthy individuals.
Methods: The researchers used mass spectrometry-based proteomics at the U.S. Department of Energy's Environmental Molecular Science Laboratory, a national scientific user facility at PNNL, on platelets from healthy and type 2 diabetics collected at the University of Rochester Blood Bank. They also investigated the role of transfusion storage, including diabetes effects on the platelet proteome. Their approach enabled highly sensitive detection of a variety of molecular species in platelets from diabetics.
Acknowledgments: The research team includes David Springer, Ljiljana Paša-Tolic, Samuel Purvine, Donald Daly and Richard Zangar, PNNL; John Miller and Shuangshuang Jin, Washington State University-Tri-Cities; Sherry Spinelli, Neil Blumberg, Charles Francis, Mark Taubman, Ann Casey, Steven Wittlin and Richard Phipps, University of Rochester. This work was supported by the National Institutes of Health.
Reference: Springer DL, JH Miller, SL Spinelli, L Paša-Tolic, SO Purvine, DS Daly, RC Zangar, S Jin, N Blumberg, CW Francis, MB Taubman, AE Casey, SD Wittlin, and RP Phipps. 2009. "Platelet Proteome Changes Associated with Diabetes and during Platelet Storage for Transfusion" Journal of Proteome Research 8(5):2261-2272.
---
Page 387 of 559