Page 394 of 559
Biological Sciences Division
Staff Awards & Honors
April 2009
Josh Adkins Named to NIH Study Section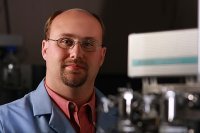 Joshua Adkins
Congratulations to Dr. Joshua Adkins, a scientist at Pacific Northwest National Laboratory, who was invited by the National Institutes of Health Center for Scientific Review to serve as a member of the Enabling Bioanalytical and Biophysical Study Section. His term is from July 1, 2009 to June 30, 2013.
This study section reviews grant applications focused on developing new bioanalytical and biophysical tools, emerging techniques and instrumentation. Emphasis is on research that probes the molecular aspects of biological systems using novel technologies or enhancements on existing techniques.
Dr. Adkins' research centers on comprehensive characterization of proteins through space and time to better understand biological systems. His particular interests are challenging biological studies that require bridging the gaps between technology development and biological application. Currently, he is Director for the Center for Systems Biology of EnteroPathogens, the aim of which is to develop therapeutics for the causative agents of Typhoid Fever and the Black Plague.
---
Page 394 of 559