Page 816 of 1002
Physcial Sciences Division
Staff Awards & Honors
March 2009
Julia Laskin Honored in Prestigious Russian Journal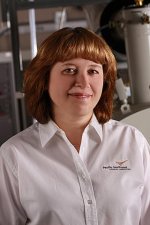 Julia Laskin
Congratulations to Dr. Julia Laskin of Pacific Northwest National Laboratory who was honored in Mass-Spectrometria, a prestigious Russian mass spectrometry journal. The tribute honored Laskin's 2008 Biemann Medal given for outstanding achievement in mass spectrometry by a young scientist.
Dr. Jean Futrell, a renowned expert is mass spectrometry, wrote the tribute, which can be found in volume 5, issue 4 of the journal. Futrell honored Laskin for her internationally recognized contributions to mass spectrometry, ion chemistry, and ion surface reactions. Her research in these areas provides an important background for the development of new analytical approaches in tandem mass spectrometry.
Laskin also is actively involved in building the next generation of scientists. She hosts and advises visiting scientists and graduate students from U.S. and foreign universities at the Environmental Molecular Sciences Laboratory, a DOE national user facility at PNNL. Also, Laskin mentors post-doctoral fellows and undergraduate summer interns. She has authored or co-authored more than 70 peer-reviewed articles.
---
Page 816 of 1002