Page 809 of 982
Physical Sciences
Research Highlights
January 2009
Nanomaterial Chemist Has Sights Set on Ionic Liquids
Ionic systems attracting attention worldwide due to their liquidus state at ambient temperatures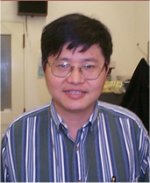 Sheng Dai
Dr. Sheng Dai, nanomaterial chemist at Oak Ridge National Laboratory, presented "Ionic liquids for syntheses of sol-gel and low-dimensional materials" at the Frontiers in Materials Sciences Seminar Series held January 26, 2009, at the Pacific Northwest National Laboratory. The series features innovative speakers from industry, government, and academia to discuss novel ideas and advancements in material sciences.
Dai's talk explored ionic systems consisting of salts that are liquid at ambient temperatures and can act as solvents for a broad spectrum of chemical species. These ionic liquids are attracting increased attention worldwide.
Ionic liquids, which are defined as salts that melt at or below room temperature, have gained a recent resurgence of interest for applications in catalysis, analysis, separation, and electrochemistry based on their distinctive physicochemical properties, such as thermal stabilities, negligible vapor pressures, and relatively high ionic conductivities. According to Dai, the overall goal is to explore new synthetic methodologies for advanced materials through ionic liquids.
Dai noted that a unique intrinsic property of these liquids is that they consist only of ions and that they can be made either hydrophilic or hydrophobic! The novel dual property of these ionic liquids makes them efficient solvents for both inorganic and organic species. The solvation environment of these ionic liquids provides new reaction media for controlling formation of polymeric materials and tailoring morphologies of advanced materials. "This highlights a new opportunity for using the solvent," said Dai.
ILs can be either aprotic or protic in nature, formed either by transfer of an alkyl (or equivalent) group or by proton transfer between Brønsted acids and bases. Aprotic ILs have been most widely studied as highly conductive media with wide electrochemical potential windows for a range of electrochemical applications and as solvents for catalysis.
More recently, interest in the development of protic ILs has considerably increased because of the great potential offered by ILs for proton-transfer applications in advanced fuel-cell technologies.
Dai's work has been featured in more than 200 peer-reviewed journal publications. In 2004, he was awarded "Significant Achievement in Nanonmaterials" by Chemical Sciences Division, Oak Ridge National Laboratory.
---
Page 809 of 982