Page 400 of 559
Biological Sciences
Research Highlights
February 2009
Probe Gives Clearer, Real-Time Picture of Small Protein Changes
Multiuse affinity probe helps identify mechanisms for cell information transfer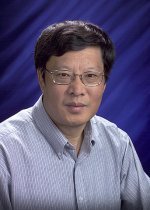 Baowei Chen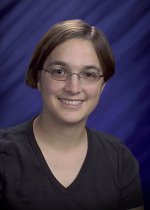 Uljana Mayer-Cumblidge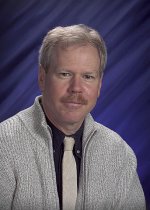 Thomas Squier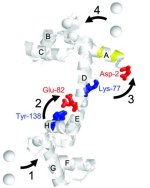 Model depicting proposed mechanism of sequential calcium binding to opposing CaM domains on the protein's helices. Initial occupancy of calcium binding sites on the C-terminal domain (step 1) helps form a bridge between amino acids Tyr-138 and Glu-82 (step 2). The resulting stabilization disrupts interactions between helix A and basic side chains in helix D that include amino acids Lys-77 and Asp-2 (step 3). In step 4, a high-affinity binding cleft associated with target protein binding is formed. Letters correspond to individual helical elements; structure corresponds to that of calcium-activated CaM.
Enlarged View
Results: Scientists can now monitor protein and cellular changes in real time and at levels previously undetectable because they have combined protein binding measurements and an environmentally sensitive molecular probe to learn more about cell information transfer. The results, which appeared in the September 2, 2008, issue of Biochemistry, will help in the quest to engineer cells for applications such as hydrogen or biofuel production as well as human health.
Scientists at Pacific Northwest National Laboratory used the probe, called ReAsH1, to monitor changes in the calcium regulatory protein calmodulin, or CaM (see sidebar). They added a genetically engineered tagging sequence to CaM that enables ReAsH to specifically and tightly bind to the protein with rates that depend on protein structure. This probe-tag pair then allowed the identification of molecular interactions, or switching points, in CaM that mediate the transfer of information from one end of the protein to the other.
Why does it matter? The ability to see these levels of changes is the very basis of understanding protein communication and function. The study results illustrate the phenomenon of cooperativity in CaM; that is, once one change occurs, subsequent changes are easier. These results go to the heart of how that happens by demonstrating the mechanism of the binding of calcium in CaM domains.
According to PNNL biochemist Uljana Mayer, a co-author of the paper, "It's very exciting to be able to figure out what the switching points are in a protein and how one part of the protein relates to the other when change occurs. It's only now, with new techniques and methods, that we can observe these very, very small changes previously unable to be seen."
Understanding cellular communication, which occurs in large part via proteins and protein changes, is vital to understanding human disease. However, these studies could impact more than just health effects. Gaining a deeper understanding of how information is transmitted within a protein will, in the long term, enable scientists to predict protein behavior. Such knowledge can lead to being able to engineer proteins—for example, for use in hydrogen or biofuel production.
1Stands for Red Arsenical Hairpin; chemical name: 4,5-bis(1,3,2-dithioarsolan-2-yl)resorufin.
Methods: ReAsH is a conformationally sensitive probe whose binding rate depends on a protein's secondary structure; helices, sheets and loops formed by the amino acids in the protein, which taken together form domains to generate the so-called tertiary structure of the protein. It enables detection of structural changes associated with helix distortions or fraying. Helices look like curled ribbons. The protein molecules twist and wind into a helix, and hydrogen bonds that form between along the proteins hold it in shape in successive turns.
ReAsH becomes highly fluorescent when it binds near the end of one of four helixes in a region of CaM. It then can indicate changes in the helix dynamics, enabling the scientists to detect conformational transitions in response to calcium and protein binding. The conformation of a protein determines its biological function in the cell by providing exposed binding sites by which the protein binds to other cell components or structures.
Laboratory Fellow Thomas Squier developed the model (see figure) that explains how the process works. The observed changes suggest an important involvement of the helix in relaying the information about the coupling of the domains. When calcium is bound, ReAsH binds more slowly. The scientists think that is because the helix gets more helical, or more regular, which binds the probe less well.
What's next: The researchers plan to measure real-time changes of CaM in living cells to generate functional imaging data that can be used to develop predictive models of cellular function. Likewise, extending this approach will be important in developing bioenergy applications, as the molecular mechanisms associated with the maturation and targeting of key proteins (e.g., hydrogenases) can be directly measured.
Acknowledgments: This work was supported by the Genomics: GTL program within the Office of Biological and Environmental Research at the U.S. Department of Energy. The lead author of the study is Baowei Chen; the corresponding author is Thomas Squier, coauthors are David Lowry and Uljana Mayer.
Reference: Chen B, DF Lowry, MU Mayer, and TC Squier. 2008. Helix A stabilization precedes amino-terminal lobe activation upon calcium binding to calmodulin." Biochemistry 47(35):9220-9226.
Related highlights:
---
Page 400 of 559