Page 404 of 559
Biological Sciences
Research Highlights
February 2009
Discovery Fleshes Out Metabolism of Key Environmental and Energy Bacteria
Results in Shewanella reveal new multi-protein enzyme in many bacterial species
Alex Beliaev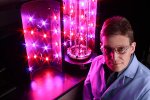 Grigoriy Pinchuk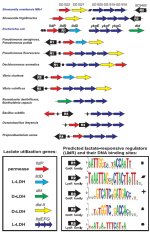 Genome context analysis of lactate utilization genes across representative members of sequenced bacterial species. Orthologs are shown by matching colors and are explained on the left inset. In the right inset, predicted binding sites of lactate-specific transcription factors are shown by black icons of different shapes with the consensus sequence depicted to the left.
Enlarged View
Results: An international collaboration of researchers has discovered a new enzyme in a species of bacteria with potential environmental cleanup and energy roles. This is the first multi-protein enzyme of its kind. It's called L-lactate dehydrogenase.
Although many microbes use a single-protein version to consume certain food—such as lactate—the new study suggests that dozens of bacteria use only the multi-protein one instead. This advance in understanding of the microbe's metabolism will help researchers use the bugs to clean up toxic or radioactive pollutants.
The results were reported in an article that appears in the Proceedings of the National Academy of Sciences. The work is described in a news release issued by Pacific Northwest National Laboratory on February 3, 2009. The news release was featured in tce today, the online journal of the Institution of Chemical Engineers, Science Daily, Insciences, and physorg.com, among others.
Acknowledgments: The research team includes Grigoriy Pinchuk, Oleg Geydebrekht, Bree Reed, Margie Romine, Jim Fredrickson and Alex Beliaev, PNNL; Dmitry A. Rodionov, Chen Yang, Xiaoqing Li and Andrei Osterman, Burnham Institute for Medical Research; Etienne Dervyn, Genetique Microbienne; Frank Collart, Argonne National Laboratory; and James Scott, Dartmouth College.
This work was supported by the U.S. Department of Energy's Office of Biological and Environmental Research's Genomics: GTL Program and Microbial Genome Program. BER is part of DOE's Office of Science.
Reference: Pinchuk GE, DA Rodionov, C Yang, X Li, AL Osterman, E Dervyn, OV Geydebrekht, SB Reed, MF Romine, FR Collart, JH Scott, JK Fredrickson and AS Beliaev. 2009. Genomic reconstruction of Shewanella oneidensis MR-1 metabolism reveals a novel machinery for lactate utilization, Proceedings of the National Academy of Sciences, USA 106(8):2874-2879. doi: 10.1073/pnas.0806798106.
For more information, see the
PNNL news release
.
---
Page 404 of 559