Page 652 of 740
Atmospheric Sciences & Global Change
Research Highlights
January 2009
The Heat is On
Even with cutbacks, some amount of global warming is inevitable.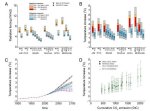 Even with policies that curtail greenhouse gas emissions, computer models show that temperatures will continue to increase into the next century from carbon dioxide and other greenhouse gases that have built up over time. (Image courtesy of the National Academy of Sciences, PNAS.)
Enlarged View
Results: A new analysis published in the Proceedings of the National Academy of Sciences finds that global warming can be slowed but not stopped.
A team of international climate experts, including Pacific Northwest National Laboratory's Dr. Steven Smith, used a wide range of comprehensive climate policy scenarios to project that global surface temperature increases of 0.5 to 4.4 degrees Celsius relative to 1990 could be expected by the end of the century.
Even the most stringent stabilization scenario indicates there will be an average minimum warming of 1.4 degrees Celsius. This is because the combination of greenhouse gases already in the environment and some unavoidable continuation of emissions will continue to cause global warming that will take decades to fully appear.
The results of the study show that although mitigation efforts are important, the world must also adapt to climate change now to reduce the impact of residual warming.
Why It Matters: The early effects of climate change have surfaced, and scientists predict that further impacts are inevitable. Even at the lowest projected temperature increases, scientists expect to see rising sea levels, more frequent heavy rains, droughts, and many other changes to historical climate patterns. Therefore, it is essential that today's policy and resource management decisions plan for the effects of global warming. While the amount of future global change can be limited by reducing greenhouse gas emissions, improving energy efficiency, and fostering renewable energy, this analysis emphasizes the importance of adaptation, which means developing management strategies that account for future climate changes.
Methods: The research team projected the effects of multiple strategies for curbing greenhouse gases while taking into consideration major uncertainties in the climate system and carbon cycle. The scientists used a method known as integrated assessment, an analytic method that models economic, physical, and ecological systems to explore the consequences of human/climate system interactions under various "what-if" scenarios. These models included MiniCAM, a computer model developed by Pacific Northwest National Laboratory. MiniCAM simulates energy consumption, land-use, and greenhouse gas emissions worldwide over the 21st century under various scenarios.
What's Next: The research findings will help policymakers form guidelines and practices to reduce and cope with climate change. Most of the scenarios analyzed to date, however, assume that the entire world will be able to adopt stringent emissions mitigation policies and implement advanced technologies to reduce greenhouse gas emissions. If these assumptions are overly optimistic, the result will be an even larger global warming commitment and greater need for adaptation. Future research will examine an even wider variety of scenarios.
Acknowledgments: This study was conducted by an international group of researchers led by Detlef van Vuuren at the Netherlands Environmental Assessment Agency. The team included Steven Smith, a PNNL researcher at the Joint Global Change Research Institute, a partnership of PNNL and the University of Maryland. The PNNL portion of this research was funded by the U.S. Environmental Protection Agency, the U.S. Department of Energy, and the Global Energy Technology Strategy Program. The study aligns with PNNL's objective to transform the nation's ability to predict climate change and its impacts.
Research Team: D. P. van Vuuren, Netherlands Environmental Assessment Agency; M. Meinshausen, Potsdam Institute for Climate Impact Research, Germany; G.-K. Plattner, Institute of Biogeochemistry and Pollutant Dynamics, ETH Zürich and University of Bern; F. Joos and K. M. Strassmann, University of Bern; S.J. Smith, Joint Global Change Research Institute; T. M. L. Wigley, National Center for Atmospheric Research; S. C. B. Raper, Manchester Metropolitan University; K. Riahi, International Institute for Applied Systems Analysis, Austria; F. de la Chesnaye, Electric Power Research Institute; M. G. J. den Elzen, Netherlands Environmental Assessment Agency; J. Fujino, National Institute for Environmental Studies, Onogawa, Tsukuba; K. Jiang, Energy Research Institute, Beijing ; N. Nakicenovic, National Institute for Environmental Studies, Onogawa, Tsukuba; and S. Paltsev and J. M. Reilly; Massachusetts Institute of Technology.
Reference: van Vuuren DP, M Meinshausen, G-K Plattner, F Joos, KM Strassmann, SJ Smith, TML Wigley, SCB Raper, K Riahi, F de la Chesnaye, MGJ den Elzen, J Fujino, K Jiang, N Nakicenovic, S Paltsev, and JM Reilly. 2008. "Temperature Increase of 21st Century Mitigation Scenarios." In: Proceedings of the National Academy of Sciences of the United States of America 105(40):15258-15262. DOI:10.1073/pnas.0711129105.
---
Page 652 of 740