Page 5 of 740
Atmospher Sci & Global Chg
Newsmakers
January 2019
Asrar to Chair American Meteorological Society Committee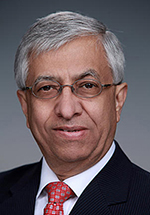 Ghassem Asrar
Pacific Northwest National Laboratory atmospheric scientist Dr. Ghassem Asrar will serve a two-year term as chair of the American Meteorological Society (AMS) International Affairs Committee.
Asrar is the director of the Joint Global Change Research Institute, a collaboration between PNNL and the University of Maryland, College Park. He steps into his new AMS role after the society's 2019 annual meeting, which takes place January 6 to 10 in Phoenix, Arizona. Asrar has been a member of the committee since August 2014.
The International Affairs Committee aims to support AMS leadership and strengthen the society's connections to international professional organizations and individuals working in meteorology and other relevant environmental fields.
During Asrar's term, the committee will also focus on the AMS 100th anniversary celebration scheduled in 2020.
"In addition to its regular activities, the committee is expected to play a major role in organizing some major international capacity development and networking with other nations' meteorological societies, and mobilizing resources to support such efforts," Asrar said.
At last year's AMS meeting, Asrar received the prestigious Cleveland Abbe Award for Distinguished Service to Atmospheric Sciences by an Individual. Asrar was honored for his work at NASA from 1987 to 2006 and at the World Climate Research Programme from 2008 to 2013.
---
Page 5 of 740