Page 44 of 1002
Physcial Sciences Division
Staff Awards & Honors
July 2018
Samantha Johnson's Early Career Success Featured in Frontiers in Energy Research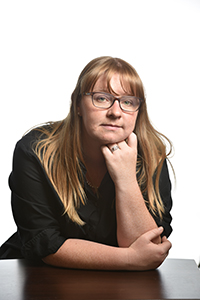 Read more about Samantha Johnson in the EFRC newsletter's latest issue.
Congratulations to Dr. Samantha Johnson at Pacific Northwest National Laboratory on being profiled in the latest issue of Frontiers in Energy Research. The newsletter features research done at the Department of Energy Office of Science's Energy Frontier Research Centers (EFRCs) along with the researchers that make it possible. The article describes Johnson's career and the decisions that led her to tackle catalytic design at the Center for Molecular Electrocatalysis, an EFRC.
Johnson also discusses the collaborative nature of her theory-based research. "The best science happens among friends, so that's been really nice here," she said. "I think the fact that we all work on different aspects of a similar goal really gives you a chance to attack a project from different angles."
The article, The Joy of Discovery Drives Samantha Johnson's Success as an Early Career Scientist, was written by Dr. Natasha Pence at the Biological Electron Transfer and Catalysis Energy Frontier Research Center.
If you'd like to learn more about the EFRCs, sign up for the newsletter at https://www.energyfrontier.us/newsletter/
---
Page 44 of 1002