Page 36 of 740
Atmospheric Sciences & Global Change
Research Highlights
July 2018
Characterizing the Barrier Effect on Tropical Precipitation Patterns
Researchers document, for the first time, a pronounced seasonal cycle in the strength of the Madden-Julian Oscillation over the Maritime Continent.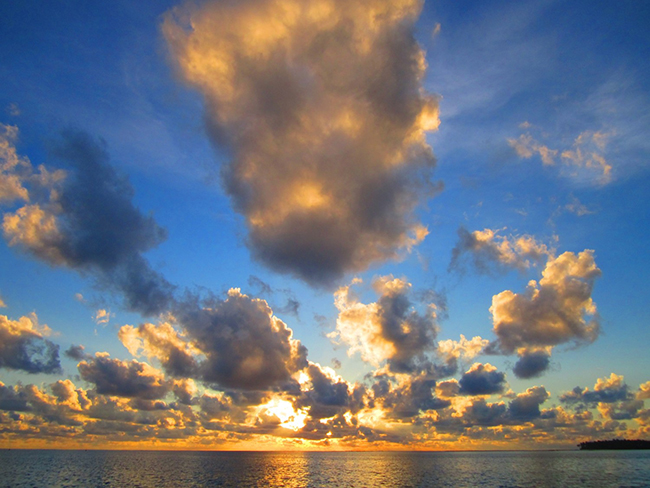 The sun sets through a field of broken cumulus clouds as seen from Gan Island in the Maldives. The area plays a key role in tropical precipitation patterns.
The Science
As the Madden-Julian Oscillation (MJO) moves eastward along the equator, it weakens or strengthens as it crosses the islands of the Maritime Continent (MC). Scientists have been unsure why it behaves one way or the other.
Investigating this "barrier effect," a research team led by the U.S. Department of Energy's Pacific Northwest National Laboratory analyzed layers of information, from the temperature of the sea surface to moisture, precipitation, and air divergence. They discovered that the MJO varies with the seasons, and is also influenced by El Niño/La Niña.
The Impact
The MJO is a primary driver of intraseasonal variations in tropical precipitation. A better understanding of the physical processes that dictate MJO-MC interactions is key to improving their representation in atmospheric models. Identifying the seasonal variation also reinforces the need for MJO measurements to be collected throughout the year.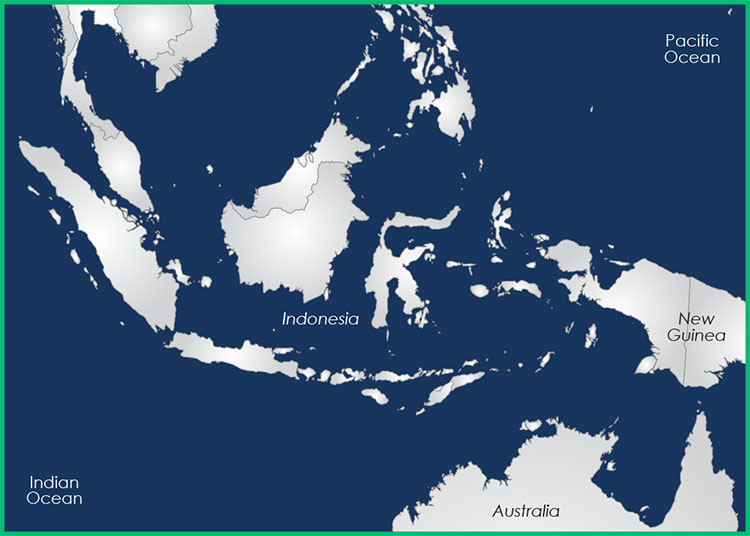 Islands within the Maritime Continent can disrupt the Madden-Julian Oscillation as it moves eastward along the equator.
Summary
In weather and climate models, scientists historically have had difficulty simulating changes in the MJO as it crosses the MC. Analyzing cases of weakening and strengthening, researchers identified for the first time a seasonal cycle of MJO intensity changes over an area encompassed by Singapore, the Philippines, and Papua New Guinea.
Their analysis showed that MJOs approaching the MC during the Northern Hemisphere winter tend to weaken, while MJOs that approach the MC during the Northern Hemisphere summer often intensify. When the MJO crosses the MC in the Southern Hemisphere, it encounters more and taller islands than in the Northern Hemisphere. Those islands can disrupt the MJO by limiting its moisture supply and upsetting its daily rhythm. The researchers also found that MJOs were twice as likely to weaken in El Niño years as compared to La Niña years.
Acknowledgments
Sponsors: The U.S. Department of Energy Office of Science, Biological and Environmental Research supported Casey Burleyson, Zhe Feng, and Brandon Kerns as part of the Atmospheric System Research (ASR) program. Samson Hagos was supported by the National Oceanic and Atmospheric Administration (NOAA) under grant NOAA-OAR-CPO-2017-2004896. Daehyun Kim was supported by the Korea 600 Meteorological Administration Research and Development Program under grant KMIPA 2016-6010.
Research Area: Climate and Earth Systems Science
Research Team: Casey D. Burleyson, Samson M. Hagos, and Zhe Feng, PNNL; and Brandon W.J. Kerns and Daehyun Kim, University of Washington
Reference: C.D. Burleyson, S.M. Hagos, Z. Feng, B.W.J. Kerns, D. Kim, "Large-Scale Environmental Characteristics of MJOs That Strengthen and Weaken Over the Maritime Continent." Journal of Climate 31, 5731-5748 (2018). [DOI: 10.1175/JCLI-D-17-0576.1]
---
Page 36 of 740