Page 45 of 740
Atmospher Sci & Global Chg
Staff Awards & Honors
June 2018
ASGC Researchers Receive Editorial Awards for Journal Reviews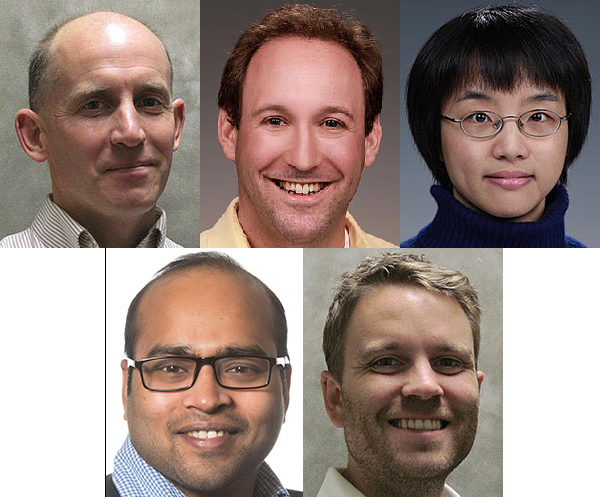 Top row, left to right: Ben Bond-Lamberty, Ben Kravitz, and Hui Wan, 2017 AGU Editors' Citation recipients. Bottom row, left to right: Chandan Sarangi, 2018
Advances in Atmospheric Sciences
Editor's Award winner, and Sean Turner, 2018 Environmental and Water Resources Institute Best Reviewer.
Enlarge Image
.
Five researchers in Pacific Northwest National Laboratory's Atmospheric Sciences & Global Change Division were honored as outstanding journal reviewers in 2017 and 2018.
Drs. Ben Bond-Lamberty, Ben Kravitz, and Hui Wan received 2017 Editors' Citations for Excellence in Refereeing from American Geophysical Union (AGU) journals.
Bond-Lamberty was recognized by Journal of Geophysical Research: Biogeosciences, Kravitz by Earth's Future, and Wan by Journal of Advances in Modeling Earth Systems. It is the second year in a row that Bond-Lamberty, a terrestrial ecology scientist, and Kravitz, an atmospheric scientist, have received AGU Editors' Citations from their respective journals. Wan, an atmospheric scientist, is a first-time honoree.
Established in 1919, AGU is a nonprofit organization of Earth and space scientists with more than 60,000 members worldwide.
Dr. Chandan Sarangi, a postdoctoral fellow in atmospheric science, received an Advances in Atmospheric Sciences Editor's Award as a reviewer of outstanding merit in 2018. Advances in Atmospheric Sciences is a monthly journal that publishes scientific peer-reviewed papers on the dynamics, physics, and chemistry of the atmosphere and ocean. It also covers atmospheric science achievements and developments.
Dr. Sean Turner, a postdoctoral fellow in integrated human-Earth system modeling, was named the 2018 Environmental and Water Resources Institute Best Reviewer. The award is given by the editor of Journal of Water Resources Planning and Management, a monthly publication of the American Society of Civil Engineers.
---
Page 45 of 740