Page 61 of 740
Atmospher Sci & Global Chg
Staff Awards & Honors
April 2018
McDowell-Led Study on Tropical Forest Mortality Attracts Global Attention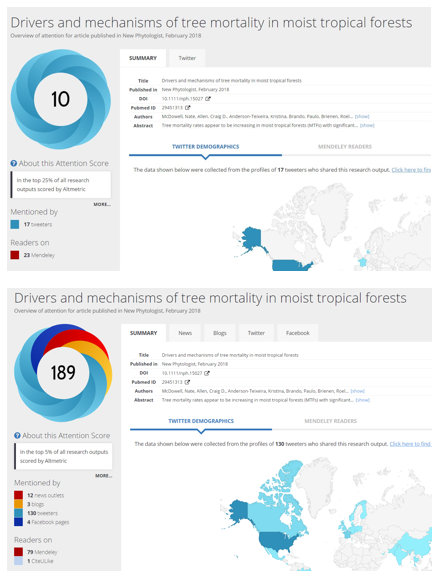 Metrics before (top) and after (bottom) PNNL's news release and subsequent coverage show a boost in the paper's visibility.
A recent study on the rising mortality rate of trees in the moist tropics, led by Pacific Northwest National Laboratory scientist Dr. Nate McDowell, made headlines in March.
Here are some of the media sources that discussed the paper:
The media coverage helped drive a larger audience to the paper, "Drivers and mechanisms of tree mortality in moist tropical forests." Published online by the journal New Phytologist on February 16, the paper soared into the top 5 percent of all research outputs scored by Altmetric.
McDowell is a plant physiologist who came to PNNL from Los Alamos National Laboratory in March 2017. His research focuses on plants and ecosystems, including internal and external controls over their carbon-water balance and their responses to environmental changes. He is focused on the planet's trees and studies the many factors that collectively determine tree survival and mortality.
See the PNNL news release, "Increasing tree mortality in a warming world."
---
Page 61 of 740