Page 857 of 1002
Physcial Sciences Division
Staff Awards & Honors
August 2008
Bruce Garrett Advises National Science Foundation Program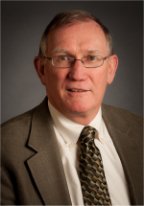 Bruce Garrett
Congratulations to Dr. Bruce Garrett on becoming an advisor to a National Science Foundation Partnership in International Research and Education Program entitled Theoretical and Computational Chemistry: Potential Energy Surfaces, Collisions with Surfaces, and Electronic Non-Adiabatic Reactions. The program builds relationships between U.S. and international institutions. The goal is to promote globally engaged, U.S. researchers. The program teams U.S. college students and mentors abroad on specific research projects.
As an advisor, Garrett evaluates the work of the team developing algorithms and software to simulate electrons and atomic nuclei in large carbon-based molecules. Garrett was asked to join because of his expertise in theory, simulation, and mentoring.
As director of PNNL's Chemical and Materials Sciences Division, Garrett leads the work to develop tools and understanding required to control chemical and physical processes in complex multiphase environments.
---
Page 857 of 1002