Page 92 of 740
Atmospheric Sciences & Global Change
Newsmakers
November 2017
Rasch Speaks Before Congress about Geoengineering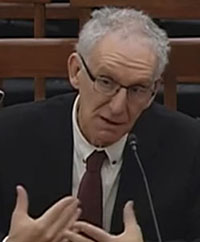 Philip Rasch
Dr. Philip Rasch, the chief scientist for climate science at Pacific Northwest National Laboratory, provided testimony about geoengineering research to the U.S. House of Representatives Committee on Science, Space, and Technology on November 8, 2017. The hearing topic was "Geoengineering: Innovation, Research, and Technology."
Rasch addressed the Subcommittees on Energy and Environment about the need for a research program to study geoengineering and how such a program might be designed. He also discussed sunlight reduction methods, a broad geoengineering category also known as solar radiation management. It encompasses techniques intended to cool the Earth's surface by reflecting incoming solar energy back to space.
Rasch also gave testimony on geoengineering to Congress in February 2010.
Watch a video of this year's testimony by Rasch and the other panelists. For more information on the hearing, read coverage by Ars Technica and the McClatchy news organization's Washington, D.C., bureau.
---
Page 92 of 740