Page 135 of 740
Atmospher Sci & Global Chg
Staff Awards & Honors
March 2017
Kravitz Received Outstanding Contribution Award from AGU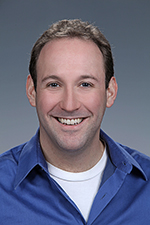 Ben Kravitz
Congratulations to Dr. Ben Kravitz, atmospheric and modeling scientist at Pacific Northwest National Laboratory. He received an award for Outstanding Contribution to the American Geophysical Union (AGU) 2016 Fall Meeting Program Committee for the Global Environmental Change (GEC) Focus Group.
The 2016 AGU Fall Meeting took place December 12-16 in San Francisco. Kravitz, like many member researchers, volunteered numerous hours toward the success of the annual meeting. His efforts for the GEC program committee involved work to merge, assign, and schedule oral and poster sessions. Established in 1919, AGU is a nonprofit organization of Earth and space scientists with more than 62,000 members worldwide. AGU members research issues and problems that influence lives every day: rainfall rates, marine fisheries, earthquake probabilities, volcanic eruption potentials and more.
Kravitz, who got his PhD in atmospheric science from Rutgers University in 2011, has been a PNNL researcher since October 2012. He is an International Union of Geodesy and Geophysics Early Career Scientist Award recipient. In January 2015, Kravitz was named among the top authors in AGU journals over the previous three years. His expertise in climate modeling and geoengineering has been featured in publications such as the e-zine Slate and The New York Times Op Talk blog.
---
Page 135 of 740