Page 154 of 1002
Physcial Sciences Division
Research Highlights
February 2017
Understanding "The Guardian of the Genome" Could Lead to Safer Pregnancies
Study of Tumor-suppressing Gene in Mice Could Lead to Reduction in Preterm Births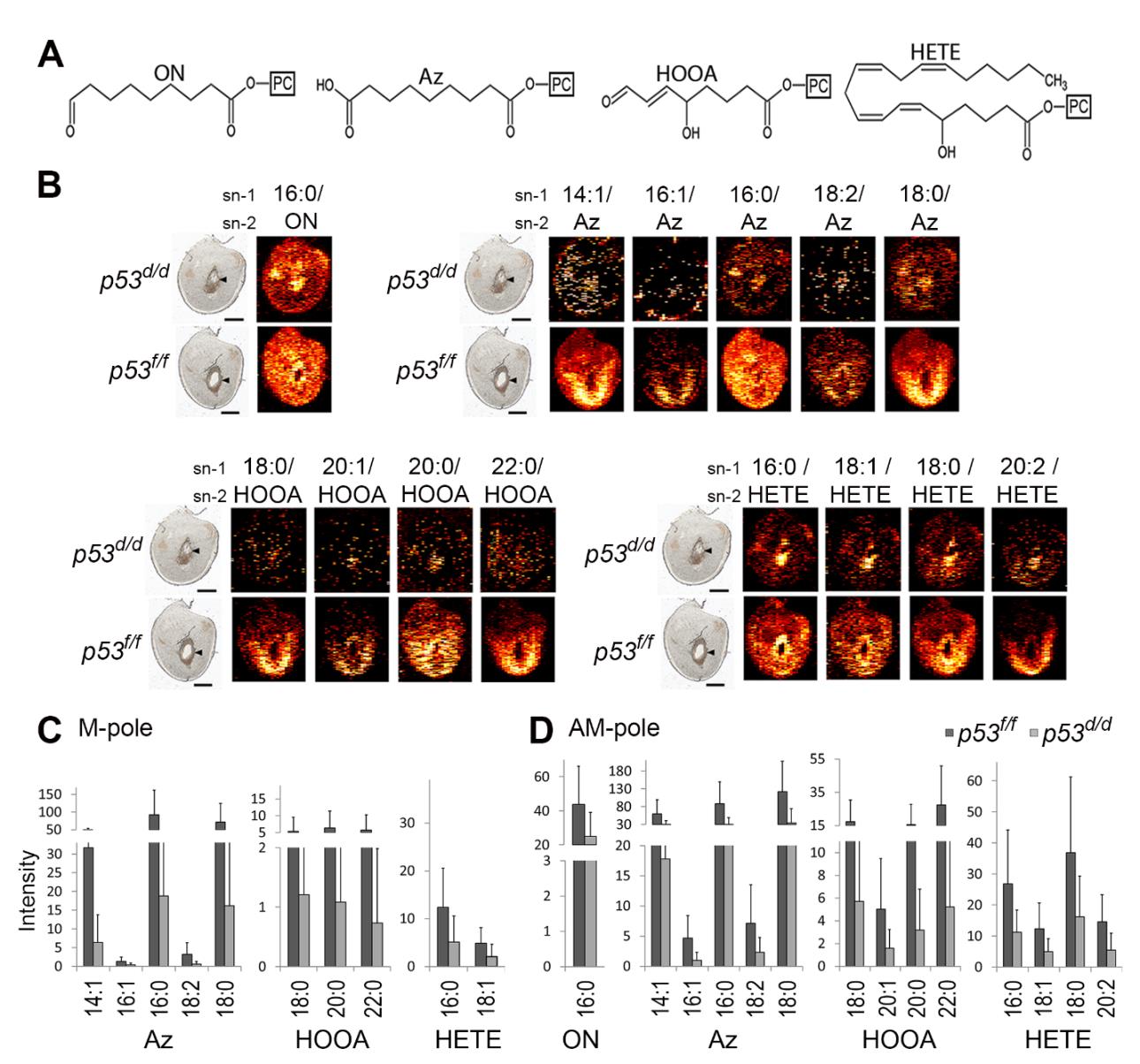 Nanospray desorption electrospray ionization mass spectrometry imaging (nano-DESI MSI) was developed by Julia Laskin in the Environmental and Molecular Sciences Laboratory, located at PNNL. This advanced imaging technique allowed researchers to detect significant changes in oxidized phosphatidylcholine (Ox-PC) lipids. In the above image, "A" represents structures of Ox-PC lipids, and "B" shows a collection of Nano-DESI MSI images where Trp53 deficiency (p53d/d) resulted in significant changes in the amount and location of several types of bioactive Ox-PC lipids.
Enlarge Image
.
Thanks to new chemical imaging results from a team of scientists led by Pacific Northwest National Laboratory's (PNNL's) Kristin Burnum-Johnson, Julia Laskin, and Ingela Lanekoff, researchers now have a better understanding of molecules linked to preterm births.
Tumor protein 53, or Trp53, is a tumor suppressor gene that maintains genomic stability under normal conditions. Described as "the guardian of the genome" because of its role in preventing genome mutation, its role in normal physiological processes is poorly understood. However, Trp53's mutation is closely associated with premature births and cancer.
Burnum-Johnson, Laskin, and Lanekoff (now at Uppsala University) and their research team proved that lab mice with conditional deletion of uterine Trp53 are powerful models for studying the molecular activity associated with spontaneous preterm labor, a term that encompasses miscarriages and premature births. Their models provide better understanding of the effects of the mutated gene and give hope to efforts to reduce preterm births.
Results: In a study that appeared in Scientific Reports in September 2016, scientists at PNNL and Cincinnati Children's Hospital Medical Center mapped in-situ lipid profiles to the heterogeneous cell types of embryo implantation sites in mouse uteri. They showed for the first time that Trp53 deficiency results in significant changes in the amount and location of several types of bioactive lipids and their precursors at the implantation site. Lipid metabolism and signaling is known to influence early pregnancy events. So the abnormal lipid profiles detected in this study indicate an adverse ripple effect of Trp53 deficiency early in pregnancy, eventually leading to preterm delivery. Uniquely, this is the first study to use mass spectrometry imaging (MSI) to visualize the oxidizing potential of tissue microenvironments by monitoring bioactive oxidized phosphatidylcholine lipids.
Why It Matters: Preterm birth is a global issue with immediate and long-term social and economic consequences. Each year, 13 million premature births and more than three million stillbirths occur worldwide. Prematurity is a direct cause of 35% of all neonatal deaths annually, totaling more than 1 million deaths worldwide. Many babies who survive premature birth suffer from serious long-term disabilities such as neurodevelopmental impairments, behavioral problems, and respiratory illnesses. By shining light on abnormal changes in abundance and localization of lipid species prior to preterm birth, this study moves researchers closer to discovering new treatments and diagnoses.
Methods: In previous studies of this mouse model, the research team uncovered abnormal protein expressing, including enhanced levels of the lipid cyclooxygenase 2 (COX-2), which is upregulated during both inflammation and cancer. They also found evidence of increased COX signaling in women undergoing preterm birth, making lipid metabolism and signaling clinically relevant. Research team member Sudhansu K Dey, a scientific leader the field of embryo implantation and Director of the Division of Reproductive Sciences at Cincinnati Children's Hospital Medical Center, provided the samples. The researchers analyzed them using nanospray desorption electrospray ionization mass spectrometry imaging (nano-DESI MSI), which was developed by Julia Laskin in the Environmental and Molecular Sciences Laboratory, located at PNNL.
The team had previously used nano-DESI MSI for both three-dimensional and tandem mass spectrometry imaging of lipids and metabolites in mouse embryo implantation sites on day 6 of pregnancy. For this study, they investigated regional lipid alterations of Trp53 deficient implantation sites on day 8 of pregnancy. The data acquired with nano-DESI MSI provided information about hundreds of molecules detected at each predefined x and y coordinate across the sample. Consequently, any detected molecule could be visualized as an ion image, depicting its distribution and relative abundance on the tissue section.
What's Next? The researchers have received funding from the Eunice Kennedy Shriver National Institute of Child Health and Human Development (NICHD) to advance the understanding of specific lipids and their metabolic pathways during early pregnancy, which can aid in devising novel strategies for management and treatment in perturbed systems such as those resulting in preterm birth.
Acknowledgments
Sponsors: The research was supported by the Chemical Imaging Initiative and Laboratory Directed Research and Development (LDRD) program at Pacific Northwest National Laboratory (PNNL). The mass spectrometry research was performed at EMSL, a national scientific user facility sponsored by the DOE's Office of Biological and Environmental Research and located at PNNL. This work was also supported by the National Institutes of Health and March of Dimes (SKD). JC was supported by a National Research Service Awards predoctoral fellowship, and IL is supported by the Swedish Research Counsel and the Swedish Foundation for Strategic Research at Uppsala University.
Research Area: Chemical Imaging
User Facility: EMSL
Research Team: Kristin Burnum-Johnson, Jennifer Kyle, and Julia Laskin, PNNL; Ingela Lanekoff, Uppsala University (formerly PNNL); Jeeyeon Cha and Sudhansu Dey, Cincinnati Children's Hospital Medical Center.
Reference: Lanekoff I, J Cha, JE Kyle, SK Dey, J Laskin, and KE Burnum-Johnson. 2016.
"
Trp53 Deficient Mice Predisposed to Preterm Birth Display Region-Specific Lipid Alterations at the Embryo Implantation Site
."
Scientific Reports
6:33023. DOI: 10.1038/srep33023.
---
Page 154 of 1002