Page 875 of 1002
Physcial Sciences Division
Staff Awards & Honors
May 2008
James Amonette Quoted in New Scientist and Nature News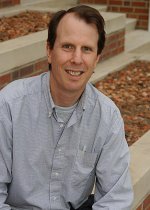 James Amonette
Congratulations to Dr. James Amonette at Pacific Northwest National Laboratory on having his opinions on the use of bio-based charcoal for carbon sequestration published in New Scientist and on the Nature website. Amonette has researched soil carbon sequestration for years, including work at the Department of Energy's Environmental Molecular Sciences Laboratory, a national scientific user facility at PNNL.
The article in New Scientist [May 3, 2008, pages 32-35] discussed Amonette's work on the use of charcoal from biomass as a way to sequester carbon from the atmosphere. Trees and other plants annually capture about 7 times more carbon than is dumped into the atmosphere by cars, trucks, and other fossil fuel users. However, the carbon is released relatively quickly back into the atmosphere when the plant dies and decays.
Heating plant matter containing the captured carbon under specific conditions yields charcoal, similar to the briquettes used in backyard barbeques. This process transforms the biological matter into a more stable form of carbon, slowing the release cycle and thereby keeping more carbon out of the atmosphere. Amonette's work focuses on what happens when the charcoal is added to soil, where it may reside for centuries.
"The technology exists for making charcoal," said Amonette. "We've been doing it for millennia." Today's processes, however, are far more efficient and environmentally friendly than those used by ancient farmers.
However, before this technology can be used as part of global carbon management, researchers need to answer more questions, and that's where the article on the website for Nature comes in.
An online news article for Nature [May 1, 2008] discusses a recent paper in Science [May 2, 2008, Vol., 320, p. 629] suggesting charcoal additions to soil may not reduce carbon in the atmosphere as much as anticipated. Amonette was asked for his opinion on the article. He noted that while this is tantalizing research, questions remain as to the properties of the charcoal that was used. The scientists did not mimic natural weathering processes, measure the impact on other greenhouse gases such as N2O, nor account for soil pH.
Amonette, together with colleagues in the International Biochar Initiative, is working on several projects aimed at answering basic science questions related to the use of bio-based charcoal, which he believes represents one of the best technologies to stem the increase in atmospheric carbon levels.
"Charcoal production is one of the few ways to obtain energy while removing carbon from the atmosphere," he said. "It is inherently carbon negative, quickly implemented, and easily scaled up or down as circumstances warrant."
---
Page 875 of 1002