Page 195 of 740
Atmospheric Sciences & Global Change
Newsmakers
May 2016
PNNL Researcher Ben Kravitz's Opinion Sought on 'Far Out' Climate Solutions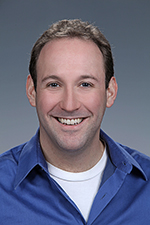 Ben Kravitz
Some geoengineering scientists are thinking of big—out-of-this-world sized—solutions to cool our warming planet. The BBC article How a giant space umbrella could stop global warming wonders if the answer might be to create a man-made structure between us and the Sun to cast a shadow on our planet.
They asked Dr. Ben Kravitz for his opinion.
Kravitz was consulted as an outside source because of his expertise in the field. As a researcher at Pacific Northwest National Laboratory, Kravitz's primary method of investigating how the climate system works is through simulations of geoengineering—or deliberate interventions into the climate system to counteract some of the effects of human-induced climate change. He also is the coordinator of the Geoengineering Model Intercomparison Project (GeoMIP), a worldwide effort to understand common climate model responses to various geoengineering scenarios.
"There's still a lot of work to do before we understand what geoengineering can and cannot do," Kravitz told the BBC.
---
Page 195 of 740