Page 198 of 982
Physical Sciences
Research Highlights
May 2016
Exploring Today's Research on Tomorrow's Battery
Symposium to discuss latest developments in next-generation energy storage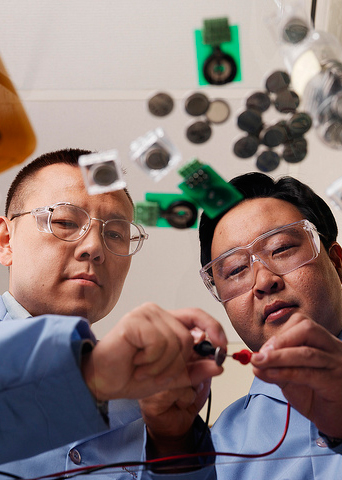 PNNL is hosting the Ninth Energy Storage Symposium: Beyond Lithium Ion, which will bring together about 250 of the world's leading energy storage experts May 24-26, 2016, at PNNL's Richland, Washington campus. Image courtesy PNNL
About 250 of the world's leading energy storage experts will gather at Pacific Northwest National Laboratory next week to discuss the latest battery technologies that are making electric transportation and large-scale renewable energy storage more accessible.
At the Ninth Energy Storage Symposium: Beyond Lithium Ion, leaders from national labs, industry and academia will share their research into developing next-generation energy storage technologies that can be less costly, safer and more environmentally friendly than today's state-of-the-art energy storage device, the lithium-ion battery.
When the conference was first organized in 2009, its sole focus was developing better energy storage for electric vehicles. But this year's symposium will also include discussion on large-scale stationary batteries to support the power grid, as the grid's complexity has grown exponentially with the increasingly widespread use of intermittent wind and solar power.
This year's conference includes a keynote address from Patricia Hoffman, assistant secretary for DOE's Office of Electricity Delivery & Energy Reliability, which funds the research, development and demonstration of a wide range of grid-related energy storage technologies. PNNL speakers include Wei Wang, who will discuss materials and chemistries for redox flow batteries, and Yuyan Shao, who will discuss the chemistry of magnesium and zinc batteries.
The annual symposium is co-organized by five Department of Energy national laboratories, NASA and IBM. This is the second time PNNL has hosted the event; it was also held here in 2011.
More information is available at the conference website. The full agenda is also online. In addition to talks listed on the agenda, about 50 researchers will present their work in a scientific poster session on the afternoon of Wednesday, May 25.
What: Ninth Symposium on Energy Storage: Beyond Lithium Ion
When: Tuesday, May 24 - Thursday, May 26, 2016
Where: Pacific Northwest National Laboratory, Richland, Washington
How: Researchers can register online; reporters should contact Franny White at (509) 375-6904
---
Page 198 of 982