Page 882 of 1002
Physcial Sciences Division
Staff Awards & Honors
May 2008
Science of Special Polymers in Nerve Agent Detectors Graces Journal Cover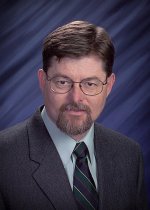 Jay Grate
Sensing traces of nerve gas or bomb-making chemicals in the air relies on specially designed polymers to capture and concentrate the right molecules. A comprehensive review of these polymers, known as hydrogen-bond acidic polymers, was missing, until now. Pacific Northwest National Laboratory Fellow Dr. Jay W. Grate wrote a 19-page review of the science and application of these sensor materials in the February 2008 issue of one of the most impactful journal in chemistry, Chemical Reviews. Artwork of a polymer bonding to the nerve gas sarin is one of six images featured on the journal's cover.
Coated onto a sensor chip as part of a detector, the polymer absorbs selected molecules. The polymer and the agent form hydrogen bonds, weak electrostatic connections between polymer's hydrogen and an agent's oxygen atom. Integral to the polymer's design are electron-withdrawing fluorine atoms that create sites on the polymer with more positive hydrogen atoms leading to stronger hydrogen-bonding interactions and more sensitive sensors.
The story of hydrogen-bond acidic polymers. In the article, Grate reviews the motivation and principles behind the use of hydrogen-bond acidic polymers, covering the period from their first uses on chemical sensors in 1986 to early 2007.
Then, Grate delves into the great variety of hydrogen-bond acidic polymers and architectures. For example, he discusses the silicon-containing BSP3 Polymer, whose design enables control of both the chemical and physical properties of the polymer. This award-winning material was developed using state-of-the-art instruments and expertise at the Department of Energy's Environmental Molecular Sciences Laboratory, a national scientific user facility at PNNL.
New applications for these polymers. Hydrogen-bond acidic polymers are most widely used on acoustic wave sensors, which use sound waves in quartz chips to detect the vapors that are absorbed by the polymer. However, these polymers are now being included in new types of sensors, that measure optical properties or electrical capacitance, for example. The new types of sensors are used to detect explosives and nerve agents.
Acknowledgments: The review article was supported by the Explosives Detection Initiative, funded by Laboratory Directed Research and Development funding, administered by PNNL. The research detailed in the article builds on activities funded by DOE's National Nuclear Security Administration, Office of Nonproliferation Research and Development.
Citation: Grate, JW. 2008. "Hydrogen-Bond Acidic Polymers for Chemical Vapor Sensing." Chemical Reviews 108(2):726-745. DOI: 10.1021/cr068109y.
---
Page 882 of 1002