Page 245 of 740
Atmospheric Sciences & Global Change
Newsmakers
October 2015
Arizona State University and PNNL Announce Agreement
Collaboration to tackle energy, climate science, and sustainability challenges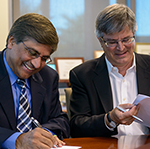 Finding solutions for global challenges in energy, climate science, and sustainability requires our best minds. The Arizona State University and Pacific Northwest National Laboratory signed a memorandum of understanding on September 29 at ASU's Tempe campus that will bring two partners together for just such an effort. Their collaboration will extend the research projects between the two institutions on areas of interest vital to the nation.
Past projects between the two have included power grid resilience, climate change, and environmental sustainability. The agreement means that they will each bring unique capabilities to address the issues and achieve mutual objectives, such as attracting new investment in global security and complex systems science. The collaboration will also include developing learning opportunities for students.
Read the PNNL news release for more about this agreement.
---
Page 245 of 740