Page 279 of 1002
Physcial Sciences Division
Staff Awards & Honors
August 2015
Arnab Dutta Garners Latest MT Thomas Award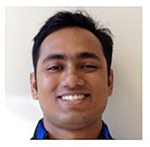 Arnab Dutta, 2014 MT Thomas Award for Outstanding Postdoctoral Achievement
Congratulations to Dr. Arnab Dutta on being named the recipient of EMSL's 2014 MT Thomas Award for Outstanding Postdoctoral Achievement. Dutta came to Pacific Northwest National Laboratory as a postdoctoral research associate in October 2012 to study bio-inspired molecular catalysts. Dutta was chosen for the quality of his work and his productivity as measured by several outstanding publications.
Wendy Shaw, associate division director for Catalysis Science at PNNL, nominated Dutta for the MT Thomas Award. In her nomination letter, she praised his creativity in identifying and understanding research problems. She also noted his desire to work with others to answer scientific questions, even when the question was not the main focus of his research.
Dutta published seven scholarly papers, with one in process, based on his research using EMSL resources. He is the first author on four of these papers, including one in the Proceedings of the National Academy of Sciences. The other papers were published in Angewandte Chemie International Edition, Account of Chemical Research, Chemical Communications and Journal of the American Chemical Society. Dutta has also given two invited conference presentations.
Dutta is currently an assistant professor at Indian Institute of Technology Gandhinagar, India. Before coming to PNNL, Dutta was a research assistant at Arizona State University. He earned a doctorate in chemistry from Arizona State University, a master's in chemistry from Indian Institute of Technology Bombay, India, and a bachelor's with honors in chemistry from Presidency College, University of Calcutta, India.
EMSL presented the first MT Thomas Award in 1996 in honor of Dr. M. Tom Thomas, who joined the EMSL project team in 1987 and served in various leadership capacities as the project progressed from conceptualization to realization.
EMSL will honor Dutta at a ceremony Sept. 30 starting at 3:30 p.m. in the EMSL Auditorium. He will make a presentation on his research at that time and a reception will follow.
---
Page 279 of 1002