Page 258 of 740
Atmospher Sci & Global Chg
Staff Awards & Honors
August 2015
Katherine Calvin Honored for Early Career Exceptional Achievement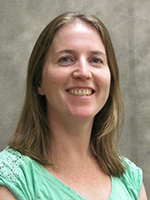 Kate Calvin
Congratulations to Dr. Katherine Calvin who received a 2015 Ronald L. Brodzinski Early Career Exceptional Achievement award for leadership in research that integrates environmental and climate change research and their socioeconomic implications for the future. Bestowed annually at Pacific Northwest National Laboratory (PNNL) in memory of Laboratory Fellow Ron Brodzinski, the award honors early-career scientists for outstanding contributions to science or engineering in fields of national importance.
Calvin was nominated by PNNL's Dr. Ghassem R. Asrar, director of PNNL's Joint Global Change Research Institute, a partnership with the University of Maryland, where she has worked since 2008. Asrar lauded her interdisciplinary research, used by all three working groups of the Intergovernmental Panel on Climate Change (IPCC). She was lead author for the chapter on mitigation in the Third National Climate Assessment, a report mandated by Congress to provide scientific information and guidance for managing potential impacts of climate change and informing long-term planning decisions.
As a leader in her field, Calvin is now serving on a National Research Council committee on Models of the World. The study is commissioned by the U.S. National Geospatial Agency to help U.S. Department of Defense agencies understand and model the interaction of complex adaptive systems such as natural ecosystems, individual organisms, and human communities, organizations and families.
"Dr. Calvin has more than 60 peer-reviewed papers in the open literature and is first author on 14 of them," Asrar said. "Her impressive scientific and technical contributions and global community leadership and service this early in her career attest to her qualifications for this award."
Professor John P. Weyant, Director of Stanford University's Energy Modeling Forum, said, "In Dr. Katherine Calvin, the Integrated Assessment and Modeling community finds an extremely precocious young rising star in modeling of global change who performs way beyond her years of experience in both individual and community research. She is an intellectual powerhouse, an accomplished leader, and is inspiring to work with."
Calvin and other Science and Engineering Achievement awardees will be recognized at PNNL's Pathway to Excellence Award Banquet in September.
---
Page 258 of 740