Page 138 of 559
Biological Sciences
Research Highlights
July 2015
OSU and PNNL Scientists Develop Improved Way to Assess Cancer Risk of Pollutants
Collaboration part of a Superfund research program
The following is taken from a news release issued by Oregon State University on May 11, 2015, written by Gail Wells, OSU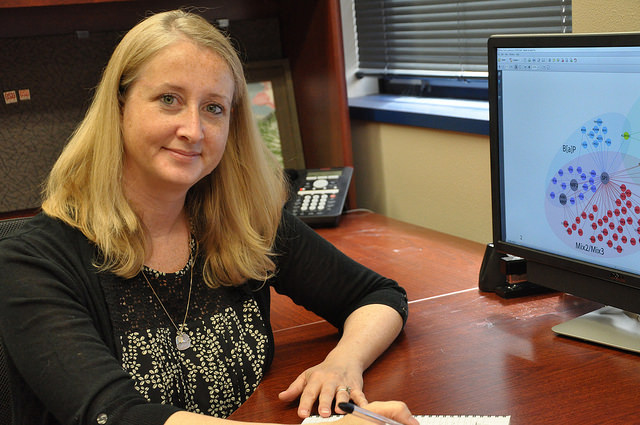 Susan Tilton, researcher at Oregon State University, lead author of the PAH study
CORVALLIS, Ore. - Scientists at Oregon State University and Pacific Northwest National Laboratory have developed a faster, more accurate method to assess cancer risk from certain common environmental pollutants.
Researchers found that they could analyze the immediate genetic responses of the skin cells of exposed mice and apply statistical approaches to determine whether those cells would eventually become cancerous.
The study focused on an important class of pollutants known as polycyclic aromatic hydrocarbons, or PAHs, that commonly occur in the environment as mixtures such as diesel exhaust and cigarette smoke.
The work was done as part of OSU's Superfund Research Program, a collaboration that includes OSU and PNNL and is a center funded by the National Institute of Environmental Health Sciences (NIEHS).
Read the rest of the news release here.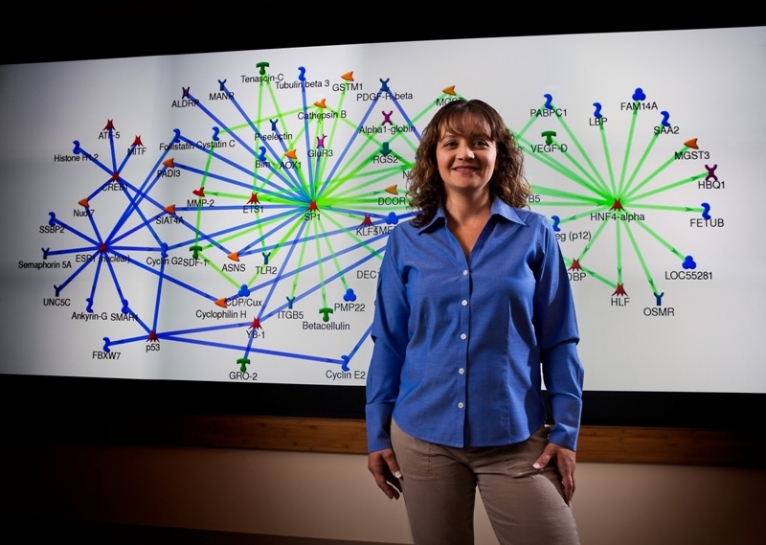 Katrina Waters, researcher at PNNL and senior author of the PAH study.
Susan Tilton, an OSU toxicologist, and Katrina Waters, PNNL computational biologist, were lead and senior authors, respectively, of a paper describing their findings that appeared in Toxicological Sciences. The paper was also highlighted in the July 2 issue of the NIEHS Environmental Factor.
Why It Matters: Integration of bioinformatics and genome-level measurements has the potential to simultaneously acquire information on toxicity pathways and risk potential in humans, and save millions of dollars in chemical testing.
"Our earlier successes applying omics technologies and bioinformatics to study potential health consequences of human exposure to low doses of ionizing radiation for DOE gave us important insights on how to approach the problem for chemicals important to public health," said Waters. "This is a great example of how we work across divisions and even institutions to do important science for the nation."
Research Team: Susan Tilton, Lisbeth Siddens, Sharon Krueger, Andre Larkin, Christiane Löhr, David Williams, and William Baird (OSU); and Katrina Waters (PNNL)
Reference: Tilton SC, LK Siddens, SK Krueger, AJ Larkin, DE Williams, WM Baird, and KM Waters. 2015. "Mechanism-based Classification of PAH Mixtures to Predict Carcinogenic Potential." Toxicological Sciences 146(1):135-145. DOI: 10.1093/toxsci/kfv080.
---
Page 138 of 559