Page 140 of 559
Biological Sciences
Newsmakers
June 2015
Janet Jansson Featured in Quanta Magazine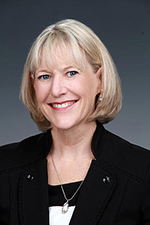 Janet Jansson
Dr. Janet Jansson, Director of Biological Sciences at Pacific Northwest National Laboratory, is featured in the June 16 issue of Quanta magazine in "Below Our Feet, a World of Hidden Life." Reporter Elizabeth Svoboda describes Jansson's research on microbes in soil and highlights from a scientific career that spans more than 30 years.
Jansson is internationally known for her work on molecular approaches (omics) to study complex microbial communities, such as those in soil, sediments, and the human gut. The goal of these studies: to predict how these communities will react to different conditions and then "tweak" them to—for example—improve crop yields or capture carbon dioxide.
Jansson is President of the International Society of Microbial Ecology and a Fellow of the American Academy of Microbiology. She also leads the Microbiomes in Transition Initiative at PNNL, a new program that is integrating multidisciplinary research to gain a mechanistic understanding of microbiome function and response to perturbation.
Quanta is an online publication launched by the New York City-based Simons Foundation to enhance public understanding of science.
---
Page 140 of 559