Page 309 of 1002
Physcial Sciences Division
Staff Awards & Honors
May 2015
Five DOE Award Winners Pursuing Ph.D. Research at PNNL
Congratulations to five graduate students who have won DOE Office of Science Graduate Student Research (SCGSR) awards to supplement part of their Ph.D. thesis research at Pacific Northwest National Laboratory in 2015.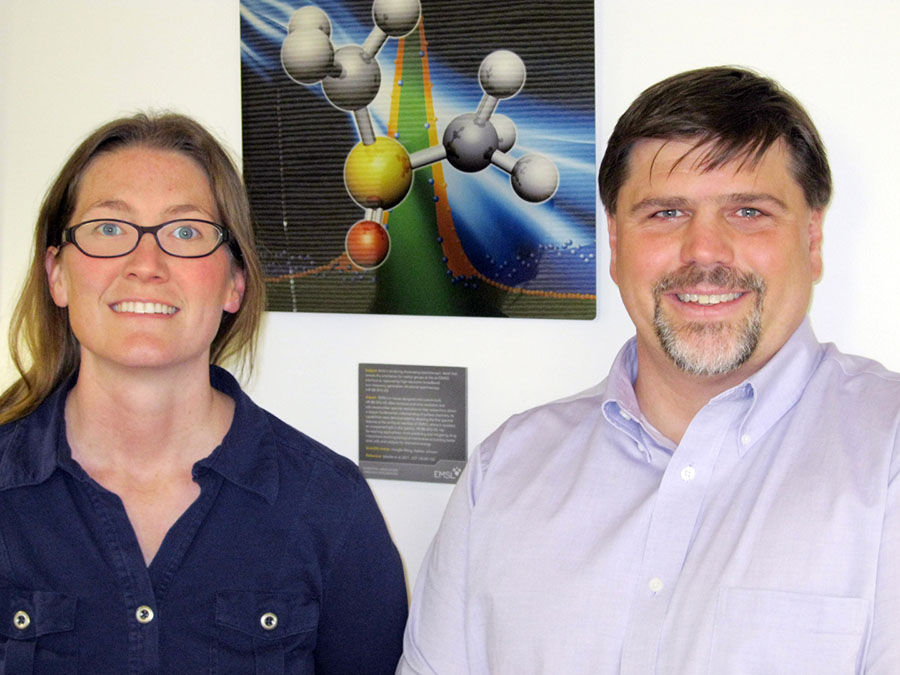 Melissa LeTourneau, who is pursuing a Ph.D. in soil science, will have more opportunities to work with her mentor, Matt Marshall, from PNNL's Microbiology group, thanks to the DOE SCGSR award.
Enlarge Image
.
The awards help prepare students for careers in science, technology, engineering or mathematics—all critically important to the future of our nation—by providing stipends of up to $3,000 per month to cover their living expenses at PNNL and round-trip travel to and from Richland. As part of PNNL's work-based learning program, they are among approximately 1,100 students at all levels who come to the national lab each year for internships at PNNL.
During their stay, the SCGSR students have an opportunity to work with mentors and other researchers. PNNL's array of scientific disciplines, coupled with some of the most advanced scientific instruments in the world, provide extensive resources to help students lay foundations for successful research careers. The work they do at the lab enhances their doctoral thesis in ways that would not be possible at most other institutions.
The SCGSR recipients at PNNL are:
Alyssa Hensley is pursuing a Ph.D. in chemical engineering at WSU. She is studying why catalysts made by doping iron surfaces with noble metals, such as palladium, are so effective at removing unwanted phenols and other materials from crude bio-oils when refining them to make gasoline and other fuels. She particularly focused on how water affects the catalyst's surface structure and its mechanism for removing oxygen. Predicting how such catalysts perform can help scientists save time — and money — by leading to the development of more efficient ways to refine bio-oil without using expensive hydrogen gas.
Mentor: Donghai Mei
Melissa LeTourneau is pursuing a Ph.D. in soil science at WSU. She is using microscopy and spectroscopy to study how soil microorganisms in the Columbia Basin influence the chemistry of iron and carbon around wheat roots. The bacteria associated with the roots produce compounds that interact with iron-bearing minerals. This interaction may influence the uptake of iron by wheat and the accumulation of carbon in the soil. These two processes may have broad impacts on soil nutrient and global carbon cycles.
Mentor: Matthew Marshall
Michael Nielsen is pursuing a Ph.D. in materials science and engineering at UC Berkeley. His project employs a liquid phase transmission electron microscope to study how calcite crystals form and to learn more about how calcium carbonate forms. The research may help geochemists learn how to inject carbon dioxide into underground reservoirs and trigger calcium carbonate formation as a way of sequestering atmospheric carbon to help reduce greenhouse gases.
Mentor: Marcel Baer
Christopher South is pursuing a Ph.D. in physical chemistry at the University of North Texas. His research helps pave the way for designing efficient iron porphyrin electrocatalysts that convert molecular oxygen to water for fuel cell devices without using platinum — a prohibitively scarce and costly element. His work will focus on highly accurate computational models to calculate and predict molecular properties of optimal catalysts.
Mentor: Simone Raugei
Anne-Marie Suriano is pursuing a Ph. D. in materials science at South Dakota School of Mines and Technology. She is investigating ways to make electrodeposited copper alloys for use in many applications such as high-sensitivity, low-background radioassay detector systems. Electrodeposition is used at PNNL to exclude unwanted, naturally occurring radioactive elements like uranium and thorium, and to assay for these impurities. Electrodeposited alloys such as copper-chromium may have better machinability, thermal, electronic, and structural properties compared to pure copper for use in next-generation electronics or physics experiments searching for dark matter or other rare event phenomena.
Mentor: Eric Hoppe
Matthew Marshall, who mentors LeTourneau, said, "This is a great opportunity for her to use the EMSL (Environmental Molecular Sciences Laboratory) facility and do things she otherwise would not have the opportunity to do at a university. EMSL is a world-class user facility that has a multitude of resources and expertise not available elsewhere. Melissa has learned that EMSL has just about everything a soil scientist could use to do world-class research. She now understands these resources can all be available to her through the user proposal system."
Writing proposals—not only for collaborating with scientists at EMSL but also for gaining admission to the SCGSR program—provided an especially beneficial lesson for LeTourneau, according to her advisor, James Harsh, professor and chair of the Department of Crop and Soil Sciences at Washington State University. "Working at PNNL allowed her to learn things she would not have learned otherwise. The experience of writing a proposal to get the internship and also to use capabilities at PNNL that relate directly to her project was a good lesson because she had to think about the reasons why her research is important to others—not just to her."
---
Page 309 of 1002