Page 146 of 559
Biological Sciences
Research Highlights
April 2015
Packing Heat: New Fluid Makes Untapped Geothermal Energy Cleaner
Nontoxic solution could cut water use in half for enhanced geothermal systems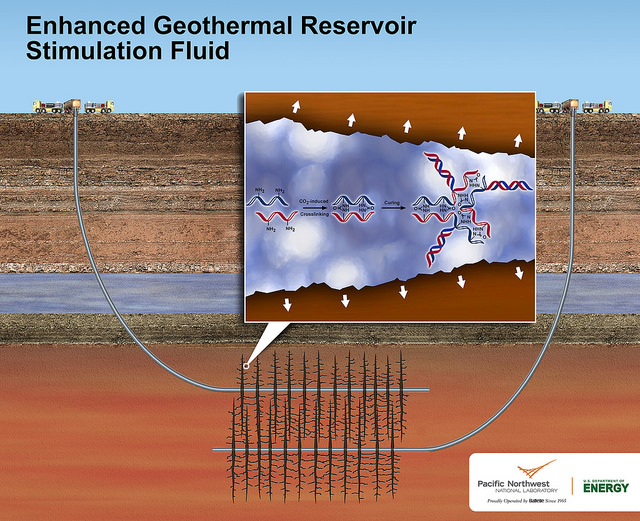 PNNL's new geothermal stimulation fluid could make geothermal power production more environmentally friendly and less costly where conventional geothermal doesn't work. The nontoxic fluid is designed to be used in enhanced geothermal systems, where fluids are injected into drilled wells that lead to underground geothermal reservoirs. The fluid expands when exposed to carbon dioxide underground, which creates tiny, but deep cracks in otherwise impermeable rock.
Enlarge Image
.
More American homes could be powered by the earth's natural underground heat with a new nontoxic and potentially recyclable liquid that is expected to use half as much water as other fluids used to tap into otherwise unreachable geothermal hot spots.
The fluid might be a boon to a new approach to geothermal power called enhanced geothermal systems. These systems pump fluids underground, a step called "reservoir stimulation," to enable power production where conventional geothermal doesn't work.
The new reservoir stimulation fluid features an environmentally friendly polymer that greatly expands the fluid's volume, which creates tiny cracks in deep underground rocks to improve power production. This fluid could also substantially reduce the water footprint and cost of enhanced geothermal systems. A paper describing the fluid has been published by the Royal Society of Chemistry in an advance online version of the journal Green Chemistry.
See more at the PNNL News Release.
Acknowledgments
Sponsors: The Geothermal Technologies Office within the U.S. Department of Energy's Office of Energy Efficiency and Renewable Energy funded this research. This study used X-ray computed tomography and magic angle spinning nuclear magnetic resonance instruments at EMSL, the Environmental Molecular Sciences Laboratory DOE user facility at PNNL.
Research Team: Hun Bok Jung, Senthil Kabilan, David Heldebrant, David Hoyt, Lirong Zhong, Tamas Varga, Sean Stephens, Alain Bonneville, Andrew Kuprat, and Carlos Fernandez (PNNL); Lexor Adams (RMC Services); and KC Carroll (New Mexico State University).
Reference: HB Jung, KC Carroll, S Kabilan, DJ Heldebrant, D Hoyt, L Zhong, T Varga, S Stephens, L Adams, A Bonneville, A Kuprat, and CA Fernandez. 2015. "Stimuli-Responsive/Rheoreversible Hydraulic Fracturing Fluids as a Greener Alternative to Support Geothermal and Fossil Energy Production." Green Chemistry Advance Online, March 25, 2015. DOI: 10.1039/C4GC01917B.
---
Page 146 of 559