Page 153 of 559
Biological Sciences
Research Highlights
March 2015
Nature Paper Provides Insight to Microbial Life in Permafrost
Study reveals clues to how drowsy microbes in Arctic tundra change to methane-makers as permafrost thaws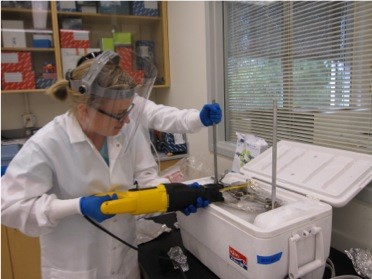 Jenni Hultmann, Lawrence Berkeley National Laboratory, prepping the frozen permafrost samples prior to multi-omics analysis
As the Arctic warms, tons of carbon locked away in Arctic tundra will be transformed into the powerful greenhouse gases carbon dioxide and methane, but scientists know little about how that transition takes place. Now, scientists looking at microbes in different types of Arctic soil have a new picture of life in permafrost that reveals entirely new species and hints that subzero microbes might be active.
Such information is key to prepare for the release of gigatons of methane, which could set Earth on a path to irreversible global warming. Appearing in the March 4 issue of Nature, the study is helping researchers better understand when and how frozen carbon might convert into methane.
The results suggest how microbes survive in the subzero temperatures of permafrost. "The microbes in permafrost are part of Earth's dark matter. We know so little about them because the majority have never been cultivated and their properties are unknown," said microbiologist Dr. Janet Jansson of the Department of Energy's Pacific Northwest National Laboratory. "This work hints at the life strategies they use when they've been frozen for thousands of years."
Read more about the paper in the PNNL and Joint Genome Institute (JGI) news releases.
Jansson led the work while at Lawrence Berkeley National Laboratory (LBNL). However, the results have significant implications for PNNL, as since June 2014, she has microbial community research at the laboratory and is director of the Biological Sciences Division.
Acknowledgments
Sponsors: U.S. Department of Energy (DOE), Office of Science, Office of Biological and Environmental Research; a DOE Joint Genome Institute (JGI) Community sequencing project; the U.S. Geological Survey; and the Finnish Academy of Science
User Facility: Joint Genome Institute (JGI)
Research Area: Biological Systems Science
Research Team: Janet K. Jansson (PNNL); Jenni Hultman and Maude M. David (LBNL); Mark P. Waldrop, Jack McFarland, Steven J. Blazewicz, Jennifer Harden, and A. David McGuire (USGS); Rachel Mackelprang and Kostas Mavrommatis (JGI); Merritt R. Turetsky (University of Guelph), Manesh B. Shah, Nathan C. VerBerkmoes, and Lang Ho Lee (Oak Ridge National Laboratory).
Reference: Hultman J, MP Waldrop, R Mackelprang, MM David, J McFarland, S Blazewicz, J Harden, MR Turetsky, AD McGuire, MB Shah, NC VerBerkmoes, L Lee, K Mavrommatis, and JK Jansson. 2015. "Multi-Omics of Permafrost, Active Layer, and Thermokarst Bog Soil Microbiomes." Nature March 4, 2015. doi: 10.1038/nature14238.
---
Page 153 of 559