Page 895 of 1002
Physcial Sciences Division
Staff Awards & Honors
March 2008
Scientist Writes Invited Crystal Chemistry Article for International Journal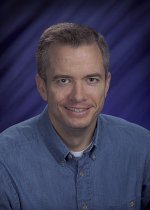 Kevin Rosso
Pacific Northwest National Laboratory's Dr. Kevin Rosso co-authored an article for Zeitschrift für Kristallographie, one of the world's oldest scientific journals. Rosso was part of the eight-author team that prepared "Bonded interactions and the crystal chemistry of minerals." The authors reviewed the last century of research on the bond length, radii, bond strength, and bond valence of minerals and other crystals.
The article reviews research conducted into the bonding structure and reactivity of crystals. Understanding the behavior the electrons in the minerals could lead to advances in fields as diverse as soil remediation and material design.
Further, the article surveys the physical properties of the distribution of electrons for selected minerals and molecules. These surveys were generated with first-principles local energy density quantum mechanical methods; that is, studies that examined the physical interactions of electrons. Some of these surveys were performed using computational tools at U.S. Department of Energy's Environmental Molecular Sciences Laboratory, a national scientific user facility, located at PNNL.
The National Science Foundation, the U.S. Department of Energy, and Bundesminister fuer Bildung und Forschung supported this research.
Citation: Gibbs, GV, RT Downs, DF Cox, NL Ross, CT Prewitt, KM Rosso, and T Lippmann, and A Kirfel. 2008. "Bonded interactions and the crystal chemistry of minerals: A review," Zeitschrift für Kristallographie 223(01-02):001-040.
---
Page 895 of 1002