Page 896 of 1002
Physcial Sciences Division
Research Highlights
February 2008
The Nature of Water
Scientists simulate how water behaves when surrounded by carbon tetrachloride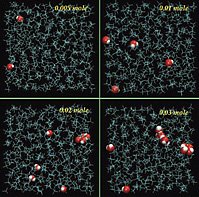 Researchers studied how water (red and white molecules) interact with carbon tetrachloride, a common pollutant
Results: Using a new, more detailed simulation, scientists from Pacific Northwest National Laboratory and University of Wisconsin-Parkside discovered that water molecules spin erratically in carbon tetrachloride and form no attachments. This research by PNNL's Dr. Liem Dang and UWP's Dr. Tsun-Mei Chang graces the cover of the February 28, 2008, issue of The Journal of Physical Chemistry A.
Why it matters: Rail yards, military bases, and other sites around the world contain water polluted with carbon tetrachloride, which was widely used in pesticides and propellants. At high levels, it can harm the liver, kidneys, and nervous system. Removing carbon tetrachloride from groundwater can be difficult and expensive. By understanding how water and carbon tetrachloride interact, researchers hope to aid future designers of faster, cheaper, more effective remediation options.
Methods: The scientists began by running computer simulations of a few water molecules mixed with 400 carbon tetrachloride molecules. The simulations allowed the scientists to study interactions that could not be seen with conventional instrumentation.
As a comparison, the scientists ran a second set of simulations where a few specially labeled water molecules were added to water.
Next, using the data generated by both simulations, the researchers performed intricate calculations on the behavior of each of the added water molecules. The calculations showed that the energy needed to move two water molecules close together is greater when the molecules are surrounded by carbon tetrachloride than when surrounded by water.
In addition, the researchers used the simulation data and calculations to determine how the water molecules move in carbon tetrachloride and in water. In carbon tetrachloride, the water molecules wobbled or spun faster in one direction. By comparison, in water, the molecules wobbled at a much slower rate. With further investigation, the team determined that the slower rate was a result of the strong hydrogen bonding networks the molecules formed with the water.
The computational results were compared with experimental research using the nuclear magnetic resonance spectrometers at University of Wisconsin-Madison.
Next steps: The team is looking forward to conducting simulations with more molecules. "We learn a little bit with every day," said Dang, of these complex interactions.
Acknowledgments: The U.S. Department of Energy's Office of Basic Energy Sciences supported this research.
Reference: Chang, TM, and LX Dang. 2008. "Computational Studies of Liquid Water and Diluted Water in Carbon Tetrachloride," The Journal of Physical Chemistry A, 112(8):1694-1700.
---
Page 896 of 1002