Page 355 of 1002
Physcial Sciences Division
Staff Awards & Honors
December 2014
Metal Catalysts from Center for Molecular Electrocatalysis Featured on Two Journal Covers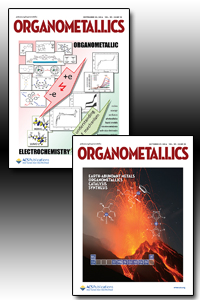 Catalysts featured on two journal covers. Copyright: 2014 American Chemical Society
Congratulations to the Center for Molecular Electrocatalysis (CME) for having two of the outstanding metal catalysts they have developed featured on the covers of issues of Organometallics, a journal published by the American Chemical Society. The Center is an Energy Frontier Research Center. It is headquartered at Pacific Northwest National Laboratory (PNNL) and funded by the U.S. Department of Energy, Office of Science, Office of Basic Energy Sciences.
In the September 22, 2014, issue, a graphic representation of an [M(P2N2)2]2+ complex appeared near the center of the cover of a special issue on organometallic electrochemistry. The complex was featured in an article reporting the results of CME experiments comparing nickel and palladium compounds as electrocatalysts for producing hydrogen. The less expensive nickel compound outperformed the precious metal palladium catalyst by producing hydrogen faster with less wasted energy. Eric Wiedner and Monte Helm, both at PNNL, co-authored the article.
The second cover was on a special issue of Organometallics featuring earth-abundant metals published October 27, 2014. Prominently displayed at the top of the cover was a graphic representation of a cobalt electrocatalyst from the CME. In the accompanying article, the researchers measured the thermodynamic properties of the catalyst as it cycled through intermediate stages of the hydrogen-production process, which helps to design better, more efficient catalysts. The authors included Ming Fang, Eric Wiedner, Tianbiao Liu, Daniel DuBois, and Morris Bullock, PNNL.
Again, congratulations, team!
---
Page 355 of 1002