Page 373 of 1002
Physcial Sciences Division
Staff Awards & Honors
September 2014
Layla Mehdi Receives Scholarship for Microscopy Conference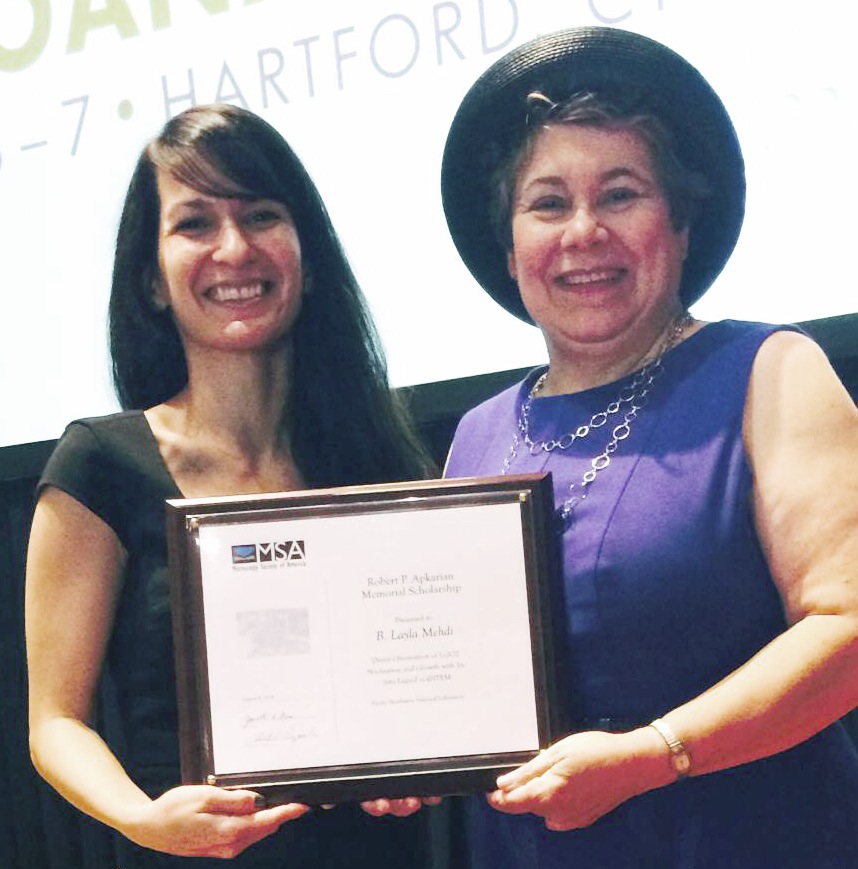 Layla Mehdi receives the Robert P. Apkarian Memorial Scholarship from Jeanette Killius, Microscopy Society of America President.
Congratulations to Dr. Layla Mehdi, Pacific Northwest National Laboratory materials postdoctoral researcher, who received a Robert P. Apkarian Memorial Scholarship to attend the Microscopy & Microanalysis 2014 Annual Meeting August 3-7 in Hartford, Connecticut. Mehdi presented a poster titled "Direct Observation of Li2O2 Nucleation and Growth with In-Situ Liquid ec-(S)TEM."
Mehdi received her award during the meeting's opening plenary session from Microscopy Society of America president Jeanette Killius, Northeast Ohio Medical University. Mehdi received her M.S. degree from Warsaw University, Poland, in 2009 and her Ph.D. from Miami University, Oxford, Ohio, in 2013. She is mentored by PNNL Laboratory Fellows Dr. Karl Mueller and Dr. Nigel Browning.
The research she presented is part of the Chemical Imaging Initiative at PNNL and the Joint Center for Energy Storage Research, an Energy Innovation Hub funded by the U.S. Department of Energy (DOE), Office of Science, Basic Energy Sciences. The work was performed at EMSL, a DOE User Facility sponsored by the Office of Biological and Environmental Research.
---
Page 373 of 1002