Page 385 of 1002
Physcial Sciences Division
Staff Awards & Honors
July 2014
Julia Laskin Receives Laboratory Director's Science and Engineering Achievement Award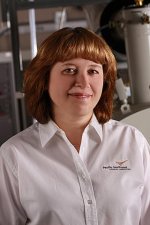 Julia Laskin, 2014 Laboratory Director's Science and Engineering Achievement Award
Congratulations to Dr. Julia Laskin on receiving a 2014 Laboratory Director's Science and Engineering Achievement Award. The award recognizes Laskin for her fundamental contributions to mass spectrometry, in particular for her research involving ion collisions with surfaces. She is an internationally recognized expert in gas phase ion chemistry, surface modification, and chemical characterization. Her fundamental studies of complex ions colliding with well-characterized surfaces built a path for precise experimental control of ion activation and dissociation. Further, her innovative ion work demonstrated that soft-landing of mass-selected ions is a powerful technique for preparing and studying novel materials, including catalysts. She has also developed imaging mass spectrometry for chemical analysis of biological samples in their native environments as part of PNNL's Chemical Imaging Initiative.
A well-respected scientist and mentor, she has received several accolades, including the Presidential Early Career Award and Biemann Medal for Achievements in Mass Spectrometry. Her advising of students and scientists earned her the U.S. Department of Energy mentoring award. She is a prolific author who currently serves on the editorial or advisory board of four journals. Her work has earned three patents.
Laskin along with the other Science and Engineering Achievement Awards honorees -- Courtney Corley, Jiwen Fan, and Pete McGrail -- will be honored at the Pathway to Excellence Award Banquet in early September.
---
Page 385 of 1002