Page 919 of 1002
Physcial Sciences Division
Staff Awards & Honors
November 2007
Jun Liu Named AAAS Fellow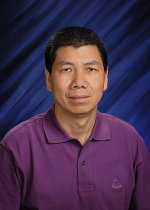 Jun Liu
Congratulations to Pacific Northwest National Laboratory's Dr. Jun Liu on being elected a Fellow in the American Association for the Advancement of Science. The AAAS is the world's largest general scientific society and publishes the journal Science. The AAAS gives the distinction of Fellow to members who have made efforts toward advancing distinguished science applications. He will be recognized in February at the Fellows Forum during the AAAS national meeting in Boston.
Liu, a Laboratory Fellow in the Chemical and Materials Sciences Division, was selected for "distinguished contributions to the development, understanding and commercialization of self-assembled functional nanoporous materials, and to the development of environmentally friendly solution approaches for oriented nanostructures."
Among his many contributions, Liu pioneered the development and understanding of nanoporous materials, containing specially designed pores thousands of times smaller than the width of a human hair. The resulting technology, for example, could be used to remove mercury from waste water produced at offshore oil platforms. The technology has unprecedented efficiency and capacity. It was commercialized and has received major awards, including a recent U.S. Department of Energy award for technology transfer.
Liu also developed an environmentally friendly method for the large-scale production of oriented nanostructured films. His method is based on understanding and controlling the films growth at the molecular level. The underlying principles have applications in America's energy future, specifically preparing solar cells and power-generating devices based on nanowires.
Liu is the author and co-author of more than 100 technical papers, an invited author for many book chapters, and a co-author and editor of several books. He has numerous patents and is a sought-after speaker. Also, he is a member of the American Ceramic Society, the Materials Research Society and the American Chemical Society.
---
Page 919 of 1002