Page 998 of 1002
Physcial Sciences Division
Research Highlights
May 2005
Petrified Wood Created in the Laboratory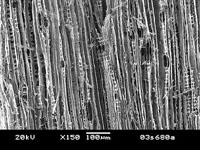 An electron microscopic image shows a cross section of wood that was artificially petrified in days, mimicking a natural process that takes millions of years.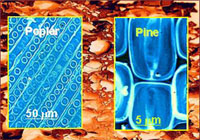 The microstructure of poplar and pine reveals a large surface area created by the cell walls.
An elegant process for direct replication of the microscopic structure of wood yields highly porous ceramics that are useful for filtering pollutants, sequestering contaminants and separating chemicals. Petrified wood forms over millions of years when trees become buried. In the absence of oxygen, the woody components dissolve and the voids are filled by minerals that precipitate out of the ground water. To mimic this process, wood segments, cut from pine or poplar, were placed in acid solution for two days, followed by immersion in a silica-containing solution for two more days. Silicon dioxide coated the microscopic structure of the wood. Air-dried samples were subjected to pyrolysis at 1450°C in a furnace filled with argon. Silicon combines with carbon from cellulose in the wood to form silicon carbide, a chemically and mechanically robust ceramic material. An intricate network of microchannels and pores now imprinted in the ceramic provides enormous surface area—in wood, a few grams of material flattened out would cover a football field—for use in industrial chemical separations or filtering pollutants from gaseous or liquid effluents.
Materials scientists are interested in the novel properties of ceramics built on templates of wood and other natural materials such as pollen and rice hulls. The acid-leaching method yields an identical, positive reproduction of the wood. To capture a negative impression, the pH is altered to favor the base end of the scale. "The positive replica is a lot better in terms of surface area and uniformity," researcher Yongsoon Shin said. "Negative forms collapse easily, but it is possible to make fiber-type materials," where the minerals fill in wood-grain openings.
---
Page 998 of 1002