Page 981 of 1002
Physcial Sciences Division
Staff Awards & Honors
September 2005
Duohai Pan, Dehong Hu, and H Peter Lu's Research Makes the Cover of The Journal of Physical Chemistry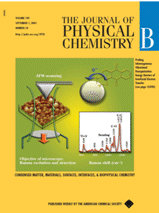 The Journal of Physical Chemistry, Part B
Congratulations to FSD's Duohai Pan, Dehong Hu, and H Peter Lu on having their article highlighted on the cover of the September 1, 2005, issue of The Journal of Physical Chemistry, Part B. Published by the American Chemical Society, this journal is the most-cited in physical chemistry.
The team's research focused on understanding the dynamics of electron transfer on nanoparticles which could lead to improved nanoscale catalysts for environmental and energy applications. The team used atomic force microscopy and confocal Raman microscopy with a dye-sensitized system, specifically, alizarin dye absorbed onto TiO2 nanoparticles. The study revealed how mode-specific vibrational reorganization energies are distributed across different sites within 250 nanometers. The study's results demonstrate a significant step forward in characterizing the heterogeneous charge-transfer dynamics at specific sites in a nanoparticle system.
Congratulations again, team!
Citation: Pan D, D Hu, and HP Lu. 2005. "Probing Inhomogeneous Vibrational Reorganization Energy Barriers of Interfacial Electron Transfer." The Journal of Physical Chemistry B 109(34):16,390-16,395. DOI:10.1021/jp058043v.
---
Page 981 of 1002