Page 541 of 559
Biological Sciences
Research Highlights
May 2005
PNNL NCRR Proteomics Research Resource hosts national workshop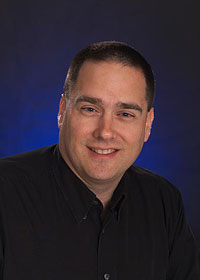 David Camp
In conjunction with a national Proteome Society Meeting March 31-April 1, 2005, the NCRR Biomedical Technology Resource Center for Proteomics Research Resource for Integrative Biology at Pacific Northwest National Laboratory hosted a "Separations and Mass Spectrometry Applied to Proteomics and the Informatics Challenges Workshop" (http://ncrr.pnl.gov/training/workshops/) that focused on proteomic data standards and informatics challenges. Dick Smith is the Resource Director, and David Camp is Associate Resource Director.
The afternoon roundtable of the workshop covered data dissemination standards and open source software tools that help analyze that data. Data standards are vital to the growing collaborative nature of large-scale proteomics studies, as they will allow multiple institutions located in diverse areas to share the results of instrumental analyses without requiring distribution of many separate analysis software tools among the groups. Standardized formats will simplify publication of analyzed data, fostering rigorous peer review of results and new analysis tool development. Open source software allows any institution to examine, validate, and ultimately improve these tools when and where appropriate.
The workshop enabled some of the preeminent scientists working in these areas to present their findings and discuss the implications and future directions of these issues. The workshop agenda is at http://ncrr.pnl.gov/training/workshops/Spring_2005/agenda.stm.
---
Page 541 of 559