Page 547 of 559
Biological Sciences
Research Highlights
February 2005
Enhanced Soil Carbon Sequestration Evaluation Methods Reviewed in Journal Article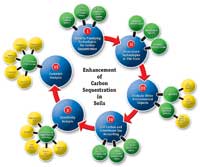 This is a general approach for the integrated assessment of soil carbon sequestration potential. This approach could be applied to any soil and management strategy combination to evaluate the likelihood of enhancing carbon sequestration in that soil.
Full Image
A journal article entitled "Enhancement of Carbon Sequestration in U.S. Soils," appeared in the October 2004 issue of BioScience, a publication of the American Institute of Biological Sciences (AIBS). The article, written by researchers from Oak Ridge National Laboratory, Pacific Northwest National Laboratory, and Argonne National Laboratory, describes an integrated evaluation of promising methods used for enhancing carbon sequestration in soil. Increasing carbon in soil is desirable for reducing atmospheric CO2 concentrations. Rising CO2 concentration is a concern because of its climate-altering potential. (See AIBS news release)
In the article, the authors describe a general approach to evaluate current methods used in agricultural, forestry, and land management practices to increase carbon sequestration in soil. The authors outline and show examples of carbon sequestration alternatives and identify uncertainties in the evaluation process. They also discuss promising technologies that could be used to more realistically assess all carbon sequestration methods and understand their implications by including sensitivity analyses over a variety of conditions, greenhouse gas accounting, and the evaluation of other environmental impacts. The authors also determine whether these practices could be acceptable and cost effective for increasing soil carbon sequestration.
The research was conducted by the Consortium for Research on Enhanced Carbon Sequestration in Terrestrial Ecosystems (CsiTE), which is part of the Terrestrial Carbon Sequestration program within DOE-SC's Office of Biological and Environmental Research. Authors are Wilfred Post, ORNL; Cesar Izaurralde, PNNL's Joint Global Change Research Institute; Julie Jastrow, Argonne National Laboratory; Bruce McCarl, Texas A&M University; Jim Amonette and Vanessa Bailey, PNNL; Phil Jardine, Tris West, and Jizhong Zhou, ORNL.
Post WM, RC Izaurralde, JD Jastrow, BA McCarl, JE Amonette, VL Bailey, PM Jardine, T West, and J Zhou 2004. "Enhancement of Carbon Sequestration in U.S. Soils." BioScience 54(10):895-908.
---
Page 547 of 559