Page 549 of 559
Biological Sciences
Research Highlights
January 2005
Enhanced yellow fluorescent protein enables definition of bystander-specific transformation response
A manuscript illustrating the use of a variant color of green fluorescent protein-enhanced yellow fluorescent protein (EYFP)-to define the transformation response of mammalian bystander cells to low-dose radiation will appear in an upcoming issue of Molecular Carcinogenesis.
The transformation response represents an index of carcinogenesis frequently used in vitro. Using a newly developed co-culture model, the researchers examined whether low-dose gamma radiation induces the transformation of JB6 mouse epidermal cells and non-irradiated neighboring, or bystander, cells.
In the co-culture model, sham exposed or irradiated JB6 cells were mixed with non-irradiated JB6 cells that constitutively express the EYFP to distinguish fluorescent bystander-specific colonies. A significant increase in the number of bystander-specific colonies was observed in co-culture with 10 cGy irradiated JB6 cells relative to the number of bystander-specific colonies arising in co-culture with sham-exposed JB6 cells. The bystander response indicates that cells that were not hit by radiation are becoming transformed in response to paracrine factors that are secreted by irradiated cells.
The manuscript authors are Thomas J. Weber, Lye M. Markillie, William B. Chrisler, and Xingye C. Lei, all PNNL; Nancy H. Colburn, National Cancer Institute; and former PNNL staff member Robert W. Siegel. This research was supported by a grant from the Low Dose Radiation Research Program, Office of Biological and Environmental Research, U.S. Department of Energy.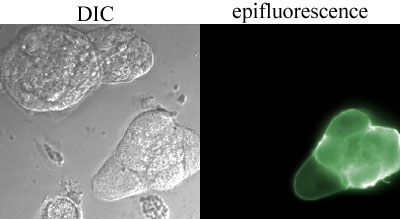 Image illustrates differential interference contrast (DIC) image of anchorage-independent colonies from JB6 or EYFP-expressing cells (left panel) and corresponding epifluorescent image illustrating specific detection of EYFP colony (right panel).
---
Page 549 of 559