Page 527 of 559
Biological Sciences
Research Highlights
September 2005
Carbon tetrachloride and chloroform accumulate and resist migration in Hanford aquifer sediments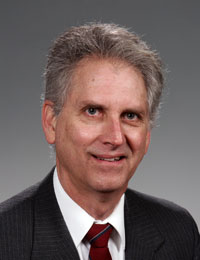 Bob Riley
In work funded by DOE's Environmental Science Management Program (EMSP), scientists from PNNL and Fluor Daniel Hanford have detected and quantified migration resistant fractions (MRF) of carbon tetrachloride (CCl4) and chloroform (CHCl3) in Hanford Site aquifer sediments. The MRF is a portion of a contaminant plume inventory that exhibits slow release. Slow release and degradation are key processes that contribute to organic contaminant transport and fate long after the major portion of the contaminant inventory has been depleted or removed.
Natural attenuation is a potential strategy to help achieve closure at Hanford's CCl4 site after every effort has been made to remove source contamination using available technology. The presence of these fractions coupled with lower than expected concentrations of CCl4 in the sediments suggest the occurrence of natural attenuation in Hanford's CCl4 plume. The presence of CCl4 in an MRF increases residence time, an important condition that allows natural attenuation processes to work (e.g., hydrolysis of CCl4 to CHCl3) to remove CCl4 in Hanford groundwater. In addition, MRF appears to be a significant storage place for some CHCl3 against rapid aquifer migration.
This project reports the first measurements of CCl4 and CHCl3 partition coefficients in contaminated Hanford sediments with varying physical/chemical properties. The CCl4 values are an improvement over and can replace estimated or assumed values, as they are more accurate and less conservative than those previously used to model CCl4 transport in Hanford groundwater, thus improving site assessment decision-making. The discovery of CCl4 and CHCl3 MRF suggests the need to develop a numerical descriptor for MRF for incorporating into future versions of transport models.
The work may also apply to conditions at DOE's Savannah River and Idaho sites where volatile chlorinated hydrocarbon compounds (i.e., CCl4, trichloroethene, and tetrachloroethene) contaminate low organic carbon aquifer sediments. The research team is led by PNNL scientist Robert Riley and includes James Amonette, David Rector, and Steve Yabusaki, PNNL; and Virginia Rohay, Fluor Daniel Hanford.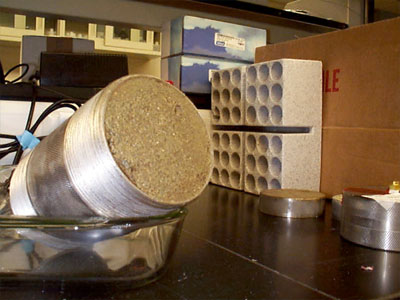 Sediment from the Ringold Formation (364-366 ft depth below ground surface) at the DOE's Hanford Site is shown within the sample collector at Pacific Northwest National Laboratory. Scientists are examining the sediments to assess carbon tetrachloride fate and transport.
---
Page 527 of 559