Page 390 of 1002
Physcial Sciences Division
Staff Awards & Honors
July 2014
PNNL Team Wins R&D 100 Award for SALVI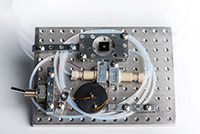 SALVI, the System for Analysis at the Liquid Vacuum Interface, won a 2014 R&D 100 Award.
Enlarge Image
.
A small window to the world of liquid interfaces has won an R&D 100 Award for a team of PNNL researchers. Xiao-Ying Yu, Zihua Zhu, Bingwen Liu, Martin Iedema and Matthew Marshall of PNNL and collaborators James Cowin and Li Yan developed the System for Analysis at the Liquid Vacuum Interface (SALVI), a novel innovation that allows a new level of molecular insight and liquid analysis that can be deployed in a range of instruments. By allowing a view of liquid-to-liquid interfaces while the sample is in its native state, scientists can view reactions in real time with a highly portable system. The new device will promote insights into nanoparticles, bacteria, batteries, and more. The invention has been patented, and a commercial version of SALVI will be available by the end of the year. The highly coveted R&D Magazine award recognizes the 100 most innovative technologies each year.
For more info, see PNNL News Release "PNNL scientists win 3 R&D 100 awards for visual display, analytics and energy technologies"
For a full list of winners, see R&D Magazine.
---
Page 390 of 1002