Page 552 of 559
Biological Sciences
Research Highlights
November 2004
NABIR project demonstrates that uranium remains immobile one year after wells were injected with acetate
Initial results from a biostimulation experiment to reduce groundwater contamination at a uranium mill tailings site provide evidence that bacteria occurring in groundwater at the site could successfully immobilize uranium. In three field-scale experiments at the Uranium Mill Tailings Remedial Action (UMTRA) site in Rifle, CO, small amounts of acetate were injected into wells to provide a food source for microorganisms capable of reducing uranium. Nearly a year after the 2003 experiment, scientists found no evidence that the uranium had reoxidized and become mobile again downgradient of the site.
Acetate, similar to dilute vinegar, was chosen as the electron donor for Geobacter, a naturally occurring, proven metal-reducing bacterium being studied for its remediation ability by scientists within the U.S. Department of Energy's Natural and Accelerated Bioremediation Research (NABIR) program. When using acetate as an electron donor, the bacteria will use iron and, incidentally, uranium as a terminal electron acceptor. The now-insoluble uranium precipitates out of the groundwater, thus keeping it from migrating to streams and drinking water.
The research team, which includes scientists from Pacific Northwest National Laboratory, the University of Massachusetts, and the University of Tennessee, most recently tracked the growth of Geobacter sp. in detail by daily sampling during electron donor addition. Typical results are shown in the attached figure. In general, adding acetate results in variable rates of loss of U(VI) from groundwater. Following the 2002 experiment in the vicinity of well M-03 at a depth of 6 meters (top panel), the amount of U(VI) removed from groundwater decreased over a 9-month period but always remained positive, ranging from 85 to 55%. Similar results were observed for this well after the 2003 experiment. Results for well M-08 (bottom panel) are even more striking as they actually increase with time, exceeding 85% several months after addition of acetate was stopped. The implication of these results is that addition of acetate to the subsurface at this site initiated bioreduction of U(VI) that was sustained at varying levels after acetate addition was stopped. So far, the question is not what the remobilization rate is, but rather the rate of ongoing U(VI) reduction. The team is currently investigating the mechanism of U(VI) loss.
The researchers also collected sufficient DNA at the bacterium's peak growth to study the environmental genomics of this biostimulated community and identify the specific community members involved in the uranium reduction. The work is sponsored by DOE's Office of Biological and Environmental Research. The NABIR program provides fundamental scientific understanding as the basis for developing cost-effective bioremediation and long-term stewardship of radionuclides and metals in the subsurface at DOE sites. The focus of the program is on strategies leading to long-term immobilization of contaminants in situ to reduce the risk to humans and the environment.
Team members are Phil Long and Tom Resch, Pacific Northwest National Laboratory; Derek Lovley, Kelly Nevin, Regina O'Neil, Helen A. Vrionis and Irene Ortiz-Bernad, University of Massachusetts; Aaron Peacock and David C. White, University of Tennessee; and Dick Dayvault, Stoller, Inc. (UMTRA Groundwater Program). The team recently updated the NABIR-UMTRA site.
Publication
Anderson, RT, HA Vrionis, I Ortiz-Bernad, CT Resch, PE Long, R Dayvault, K Karp, S Marutzky, DR Metzler, A Peacock, DC White, M Lowe, and DR Lovley. 2003. "Stimulating the In Situ Activity of Geobacter Species to Remove Uranium from the Groundwater of a Uranium-Contaminated Aquifer." Applied Environmental Microbiology 69(10):5884-5891. DOI:10.1128/AEM.69.10.5884-5891.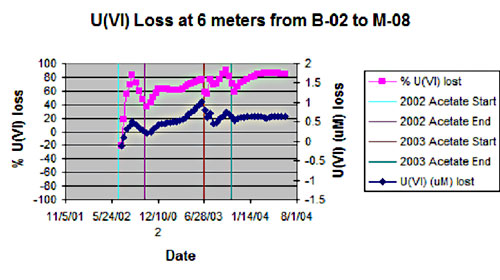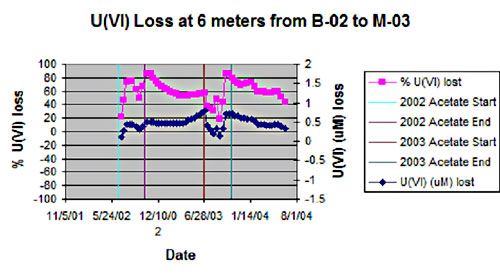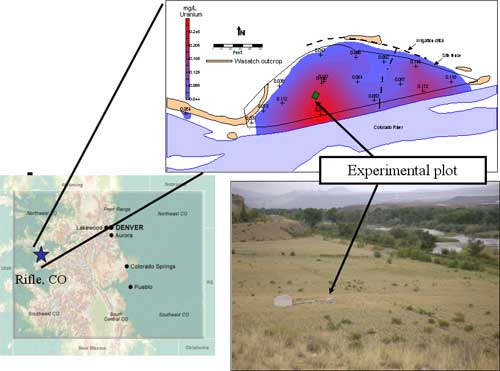 The experimental plot is located in a part of a uranium plume with ~ 0.6 to 1.2 μM U(VI), residual from when the site was used as a uranium ore processing facility. The Colorado River flow has a major impact on groundwater flow at the site.
Full Size
.
---
Page 552 of 559