Page 1000 of 1002
Physcial Sciences Division
Staff Awards & Honors
April 2005
Liem Dang's Article Showing Unified Molecular Picture Graces Journal's Cover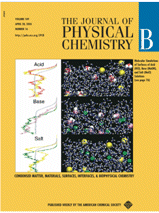 The Journal of Physical Chemistry, Part B
Congratulations to FCSD's Liem Dang on having his research featured on the cover of The Journal of Physical Chemistry, Part B. The molecular structure of interface where air and a solution meet is poorly understood, and the subject of a long-standing controversy. One view holds that the surface layer is free of ions. The other holds that, in many cases, the surface contains a significant amount of ions.
In their paper, Liem and his collaborators present a unified and consistent structure for the air/solution interface of acids, bases, and salt solutions. The results show that in salt solutions and bases, positively charged ions are repelled from the interface while negatively charged ions vary in their abundance at the surface.
Acids, however, behave differently. In acids, both positively and negatively charged ions exhibit enhanced concentrations at the surface and, unlike bases or salts, reduce the surface tension.
The results of this paper have implications for chemical processes where reactions occur at the interface of air and a solution, such as material corrosion and aerosol interactions.
The article was written in collaboration with the Academy of Sciences of the Czech Republic and the Center for Complex Molecular Systems and Biomolecules, the Max Planck Institute for Biophysics, Ohio State University, and the University of California.
The work was funded by grants from the National Science Foundation, Czech Ministry of Education and Research Corporation.
Congratulations again, team!
Citation: Martin Mucha, Tomaso Frigato, Lori Levering, Heather Allen, Douglas Tobias, Liem Dang, and Pavel Jungwirth. 2005. "Unified Molecular Picture of the Surfaces of Aqueous Acid, Base, and Salt Solutions." Journal of Physical Chemistry Part B 109(16):7617-7623. DOI:10.1021/jp0445730.
---
Page 1000 of 1002